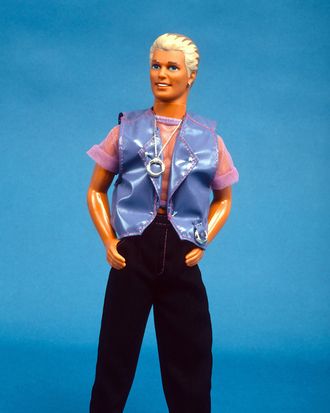 Photo: Yvonne Hemsey/Getty Images
Weird Barbie's house in Barbie was home to more than just the ragged-looking and splits-serving doll played by Kate McKinnon. We meet a slew of discontinued dolls there, including Video Girl Barbie, played by Mette Narrative, Growing Up Skipper (Hannah Khalique-Brown), and Earring Magic Ken (Tom Stourton) — basically a bunch of li'l freaks from the archives. Earring Magic Ken in particular has been the stuff of urban legend for decades, thanks to his totally-not-a-cock-ring necklace. Though his most famous accessory is nowhere to be found in the Barbie movie (instead, this Ken wears a "Barbie" nameplate necklace), it's worth looking back at the surprise controversy that greeted Mattel's most rave-ready doll in the early '90s.
Earring Magic Ken was, of course, created as an accessory to Earring Magic Barbie. It was the year 1993, and this new Ken tried to make things feel modern. He wore a lavender mesh shirt, a purple pleather vest, baggy jeans, and black loafers. He accessorized, too, with jewelry including a single earring on his left ear and a necklace with a circular pendant. The pendant was meant as an anchor for charms that doubled as wearable clip-on earrings. But without the charms, it just looked like … well, a pleasure ring commonly worn by gay men. Mattel explained at the time that Ken's modern look was inspired by focus groups of little girls who wanted the doll to be cooler. "This is a big breakthrough," Lisa McKendall, manager of marketing communications for Mattel, told the New York Times in 1993. "We never would have done this a few years ago. But now you see more earrings on men. They are more accepted in day-to-day life. We are trying to keep Ken updated."
The company wouldn't comment on the queer-coded aspects of Ken's costume until asked point-blank by the writer Dan Savage, who published an article titled "Ken Comes Out" in The Chicago Reader that same year. When asked if Ken's necklace was inspired by cock rings, McKendall denied it. "Absolutely not," she told Savage. "It's a necklace. It holds charms he can share with Barbie. C'mon, this is a doll designed for little girls, something like that would be entirely inappropriate." (Decades later, however, an ex-Mattel employee told Mel magazine that there were indeed murmurs inside the company about how gay Earring Magic Ken looked. "I do recall the male Mattel designer — who was married with several children and working on the project — saying to me: 'They will turn Ken gay with this doll!'")
Savage joked in his piece that Mattel employees had gone to raves in L.A. and New York for inspiration; fans ran with it, and the detail became part of the urban legend of how Earring Magic Ken came to be. Never mind that in Savage's piece, McKendall had reiterated her point about the focus groups of little girls ages 3 to 10, explaining, "What they see their dads, brothers, and uncles wearing, they want Ken to wear." Either way, as one fan told the Herald Journal, Earring Magic Ken's appeal was simple: "He's a campy, funny thing to have."
Earring Magic Ken was on store shelves for six months, about the standard lifespan of a limited-run Barbie doll. Some have claimed he became Mattel's best-selling doll, but his short shelf life and the fact that Totally Hair Barbie had sold 10 million units the year before make that unlikely. He was discontinued by the end of 1993, along with the rest of the Earring Magic collection — and not because of his new fans, as some stories claim. Why the Barbie movie omits his most famous accessory is a mystery, though. Vulture reached out to Barbie costumer designer Jacqueline Durran and to Mattel to shed light on the change but did not receive a response. Adieu, Ken's cock-ring necklace: gone, but not forgotten.

#Earring #Magic #Ken #Barbie #Movie