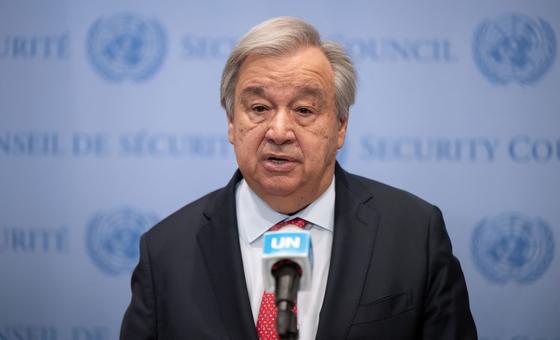 The men – four national staff and a Bangladeshi citizen – were abducted in the southern governorate of Abyan on 11 February 2022 after returning from a field mission.
UN Secretary-General António Guterres was delighted to learn of their release, noting that available information suggests that all are in good health.
Mr. Guterres was "profoundly relieved that their ordeal and the anxiety of their families and friends have finally come to an end," his deputy spokesperson, Farhan Haq, said in a statement.
"The Secretary-General reiterates that kidnapping is an inhumane and unjustifiable crime, and calls for the perpetrators to be held accountable," it said. "He also expresses his solidarity with other people still held against their will in Yemen."
In good spirits
The UN Resident Humanitarian Coordinator for Yemen, David Gressly, also welcomed the development.
"I was extremely pleased to see for myself that the four Yemeni colleagues were in good health when I flew with them to Aden from Mukalla today," he said. 
Mr. Gressly reported that they all are in good spirits and in contact with their families. He thanked the Government of Yemen and others that helped to secure the staff members' release and ensure their health during their lengthy captivity.  
"While the entire UN family in Yemen is relieved that our colleagues are free, we also recall other UN staff are still held against their will in Yemen. We stand in solidarity with them," he added.
The UN in Yemen
Yemen continues to face a protracted political, humanitarian and developmental crisis after more than eight years of fighting between a pro-Government Saudi-led coalition and Houthi rebels.
More than 21 million people, roughly two-thirds of the population, need support and protection, and the UN and partners are delivering essential humanitarian aid and development assistance. 
They are seeking $4.3 billion to reach 17. 3 million people this year, but the appeal is just over 30 per cent funded.
A UN-led operation is also underway in Yemen to transfer more than a million barrels of oil from a decaying supertanker moored off the Red Sea coast – another casualty of the war.
#welcomes #release #staff #abducted #year #Yemen