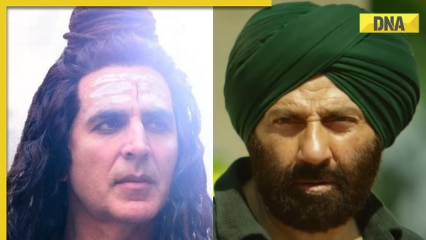 How the much-anticipated box office clash of Sunny Deol's Gadar 2 and Akshay Kumar's OMG 2 panned out.
The Independence Day weekend of 2023 saw the release of two big films. After Ranbir Kapoor-starrer Animal chose to postpone its release to later in the year, the weekend was left to two sequels – Sunny Deol's Gadar 2 and Akshay Kumar's OMG 2. Given that Gadar 2 was coming with a bigger pedigree, it was expected to do better. But many analysts felt that Akshay's stardom could give a boost to OMG 2 as well. Well, the verdict is full and truly out now and it's a landslide  win for Gadar 2.
How Gadar 2 vs OMG 2 played out at the box office
The signs had been there since the advance booking opened. Gadar 2 sold tickets worth Rs 17.60 crore for day one, the third-highest for a Hindi film in the post-pandemic era. In comparison, OMG 2 sold tickets worth Rs 3.30 crore. The stark difference carried on to the opening day. Gadar 2 began with more housefull shows and over twice the occupancy in theatres as compared to OMG 2. Trade experts say that Gadar 2 stands to earn Rs 40 crore net in India, which would put it in the top-10 openers of all time for Bollywood. On the other hand, OMG 2 may struggle to hit double figures and is looking to earn somewhere in the Rs 8-9 crore range.
How things look for the two films over the weekend
OMG 2 has seen better reviews as compared to Gadar 2, with critics praising the film's sensitivity and message. Gadar 2 has also received favourable reviews but has been criticised for its loud tone and plot holes to an extent. Normally, positive reviews lead to some improvement in a film's collection via word of mouth. However, trade insiders say it may be difficult for OMG 2. Trade analyst Atul Mohan tells DNA, "Because of how well Gadar 2 did, many multiplex chains are planning to increase its shows and reduce the number of shows of OMG 2 from tomorrow. This means that its chances of growth will suffer. This is a normal practice that often happens when exhibitors feel that one film has more chances of getting them higher returns."
The lifetime prediction for Gadar 2 and OMG 2
The way Gadar 2 has begun is quite promising. While it is too early to predict how the film will do in the long run, a 40-crore opening day often means a film can easily break the Rs 300-crore barrier in its lifetime run in worldwide collections. Gadar 2 should be aiming at that, at least, and if it sustains well, the 400-crore mark should not be elusive as well. As for OMG 2, the film can now only hope to grow via word of mouth and breach the 100-crore mark. Beyond that, things do look bleak for the Akshay Kumar-starrer.
#Sunny #Deols #action #bulldozes #Akshay #Kumarstarrer #earn #times #box #office