Ames is now a six-time winner on the senior circuit — two triumphs in his first 175 starts among the 50-and-over crowd, and four in his past 13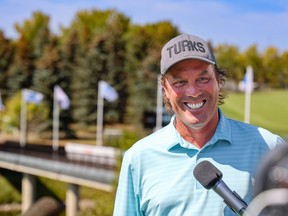 Article content
It's been a fairytale season for Stephen Ames.
Article content
He collected another trophy this past weekend. As the former Calgary resident returns to his old stomping grounds for the Shaw Charity Classic presented by Rogers, he's already won four PGA Tour Champions titles in 2023.
Article content
The drive for five continues this week at Canyon Meadows Golf & Country Club. And yeah, he's allowed himself to daydream a little about what it would mean to win on what is very familiar turf.
"It would be awesome because there would be so many familiar faces and a lot of people who have known me for 25 years here, living in Calgary, and helping to put this event together," Ames said after Tuesday's practice round. "As (tour videographer) Al Pollock brought up … This would be like my fifth major.
"And it would be, for sure. It would be very fulfilling."
Article content
The 59-year-old Ames continued his remarkable run with Sunday's pedal-to-the-floor performance at the Boeing Classic in Seattle, where the Canadian Golf Hall of Fame inductee turned a two-stroke lead into a seven-shot runaway with a fabulous finish. He played the final five holes in 6-under-par, stringing together four straight birdies and then adding an exclamation point with an eagle.
Ames is now a six-time winner on the senior circuit — two triumphs in his first 175 starts among the 50-and-over crowd, and four in his past 13. Whoa.
"For me, right now, I'm just enjoying where I'm at with my game and trying to make the most of it as we go along," said Ames, now a resident of Turks and Caicos. "The confidence is there, there's no doubt about it. Knowing where I'm at and how to fix things instantly when I'm on the course, how to feel a little bit more relaxed and enjoying it … Yeah, I'm in that zone right now, and it's helpful."
Article content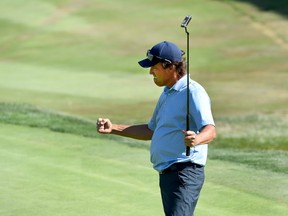 While this might seem like a sudden hot streak, Ames will tell you that it's the accumulation of a whole lot of hard work.
Shortly after the COVID-19 shutdown, he realized he was "not in the shape that I needed to be in." He enlisted the help of Jon Rahm's trainer, Harry Sese, and has been dedicated to hitting the gym four or five times a week.
"In 2021, I started to see the results already," Ames said. "And then in 2022, when I ended up finishing eighth on the money list, I was like, 'You know, it was a great year, but I didn't win any events.' And then this year, it's been, 'Oh, something is happening here … ' "
Indeed, something special.
Fifty-nine has always been considered a magic number in golf, but that's rarely the peak age for a professional pin-seeker.
Article content
The way Ames is currently grooving, especially with his 60th birthday on the horizon next April, is nothing short of extraordinary. His recent roll also includes Ws in Morocco, Atlanta and in Des Moines, Iowa. In addition to Sese, he also shouted-out his swing coach, his sports psychologist and his wife, Kelly.
As the PGA Tour Champions stars arrive for the latest edition of the Shaw Charity Classic, which is teed up for Friday-Sunday and features a US$2.4-million prize purse, Ames is sitting third in the Charles Schwab Cup standings. Only Steve Stricker, who stayed home this week to focus on his prep work as vice-captain for the upcoming Ryder Cup, has claimed more hardware this season.   
While the Boeing Classic champ has never followed up with an encore performance the next week in Cowtown, you'd be crazy to bet against Ames right now.
Article content
What's the biggest challenge in going back-to-back?
He smiles wide.
"Not having too many drinks to celebrate," Ames quipped.
And how did he do?
"Not too good," he confessed. "Because I felt it Monday morning — 'Oh, I had way too much wine last night.'"
Canadian Stephen Ames wins Boeing Classic by 7 shots

Hockey stars to face off in exhibition at Shaw Charity Classic

Calgary's Wes Martin aiming to qualify for Shaw Charity Classic

Stewart Cink hoping for some mountain magic in first trip to Shaw Charity Classic
While he'd love to be toasting another triumph this weekend, Ames stressed in Tuesday's chit-chat with the local media that any individual success at his used-to-be-my-hometown event is simply a bonus.
As he reminded, the Shaw Charity Classic has raised north of $93 million over the past decade for a long list of important causes. He reminisced about his initial meetings with the late Clay Riddell and J.R. Shaw about bringing a senior showdown to this city.
Article content
"We started this event for a couple reasons, with the main reason obviously being the charitable aspect of it," Ames said. "For me, that's the fulfilling part of this event.
"I was actually thinking about this last night, because when we started the meetings, J.R.'s dream was having it raise $10 million a year. And I was like, 'Really, that high?!?' But actually, we've done that.
"Even the accumulation of all the other events on the PGA Tour Champions, I don't think they've raised the amount of money that we have here. So that tells you."
CHIP SHOTS: The RBC Championship Pro-Ams run Wednesday andThursday at Canyon Meadows … Hyeong Geon Kim, Jeff Gove and birthday boy Ted Purdy advanced through Tuesday's final qualifier at Lynx Ridge. Calgary's Wes Martin (River's Edge) signed for a 1-under 70, missing out on a playoff by a single stroke.
wgilbertson@postmedia.com
@WesGilbertson

#Stephen #Ames #riding #hot #streak #return #Shaw #Charity #Classic