Sheertex Stubbornly Sheer Rip-Resist Tights

I love wearing tights in the cooler months. Unfortunately, stockings are one of the most challenging articles of clothing for me to wrangle, because I only have one arm. Beyond this, I always have incredibly long and bedazzled nails. Yes, I like to make things more complicated.
Between these two hurdles, I have been approaching each pair of tights I wear as a one-time-use article, knowing that, after a single wear, I'd usually find tears and holes. It isn't a very budget-friendly situation, and it was extremely frustrating knowing my brand-new tights would likely go down as a casualty.
When putting on stockings, I'd usually try to scrunch them up to the best of my ability, as you would with two hands, except my final result looked something like an unbrushed coil of dog hair. Then I'd proceed to slip my foot through. Usually, at this point, I'd haphazardly pull the fabric over my legs, trying my hardest not to let my nails do any damage.
Even without the nails, though, it wouldn't be a gentle process. After all, tights shouldn't be pulled at and kneaded like dough. Ideally, they should be stretched as evenly as possible to avoid tugging too much on a single area. But that was nearly impossible for me and my limb difference.
So when the Instagram algorithm, which seems to know me all too well nowadays, hit me with a Sheertex ad featuring a pair of stockings with a knife poking the fabric, failing to puncture them, I knew I had to try them. The results were shocking.
Sheertex tights
Sheertex's rip-resistant tights put other undergarments to shame with their super strong knit material and reinforced waist and toe for virtually impossible tears.
$35 at Amazon
The fabric is super stretchy and tougher than (finger)nails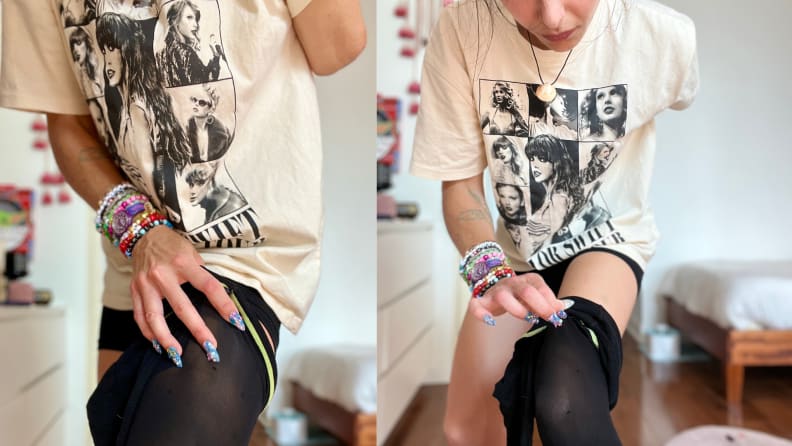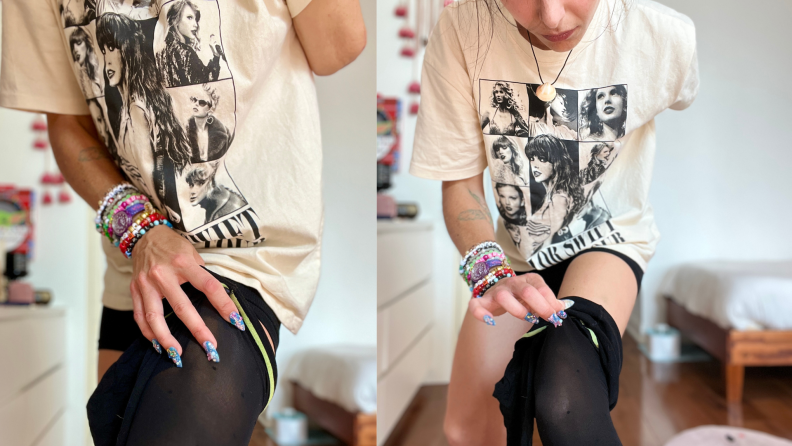 Upon unboxing these tights, I found that the fabric felt much sturdier, and perhaps slightly thicker, than any other regular tights I'd tried before, even the high-quality hosiery I'd taken failed chances on in the past. I decided to skip my inefficient scrunching altogether here and went straight in as if I were pulling on a pair of socks because, realistically, that's what I needed to do if I was going to find a pair of tights that was truly accessible.
I just started pulling and pinching where needed, working the fabric over my legs. I first went in with some hesitation but then gave it my very best (or worst) effort, grabbing hold of them wherever I could grip them and eventually pulling them on as if they were a pair of pants.
I looked them over thoroughly, and no tear, snag, or run was present. Plus, once they were on, they were on for good because the thick waistband made them comfortable, and I didn't have to spend my time pulling them up and readjusting.
I first wore them out to an evening where a little bit too much fun was had. Coming home and undressing I was less than delicate with how I handled these, but upon reexamining them in the morning, I found them impeccable. That was the winter I turned into a Sheertex miracle believer.
They work well with prosthetics
I'm not a big prosthetic wearer or user, but I know some amputees who rely heavily on theirs, so I wanted to be sure Sheertex could withstand those assistive devices. With this in mind, I gave them a spin with my prosthetic hand and—the big test—the hook attachment that came with my arm. If these could hold up against a hook, they'd likely be good with many other terminal devices (the part that goes at the end of a prosthesis, such as a hand, hook, cylinder grip, foot, blade, etc.).
I thought the hook would get through, but again, it was no match for Sheertex's miracle fabric.
Their durability is a universal help
I love that this brand created a design that wasn't meant to cater to just one group of people. Sheertex tights aren't an adaptive product, but were designed with a specific intent: "unbreakability." And this happens to be excessively helpful to anyone using them, regardless of whether or not you identify as disabled. They are universally more accessible, which means Sheertex can be accessed to the greatest extent possible.
There are lots of colors to choose from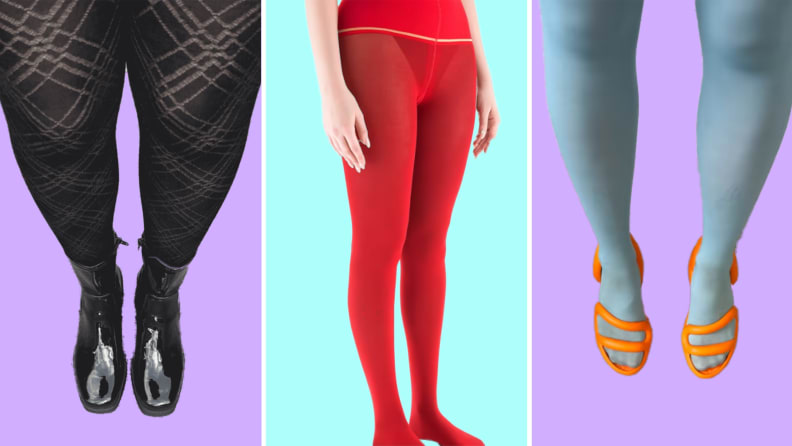 My favorite thing in the world is having options. Unfortunately for my modestly-sized NYC closet, I've never been able to stick to just a few minimal neutral-colored pieces, because I want every color in my wardrobe. Sheertex, of course, offers classic black tights but also exists in fun patterns and colors. My favorite ones are these micro-dotted tights. Many products branded as "adaptive" are sadly lackluster in appearance. It's refreshing to have uncovered a product that helps me and comes with options, because accessibility shouldn't be limiting, it should be freeing.
Should you buy Sheertex Tights?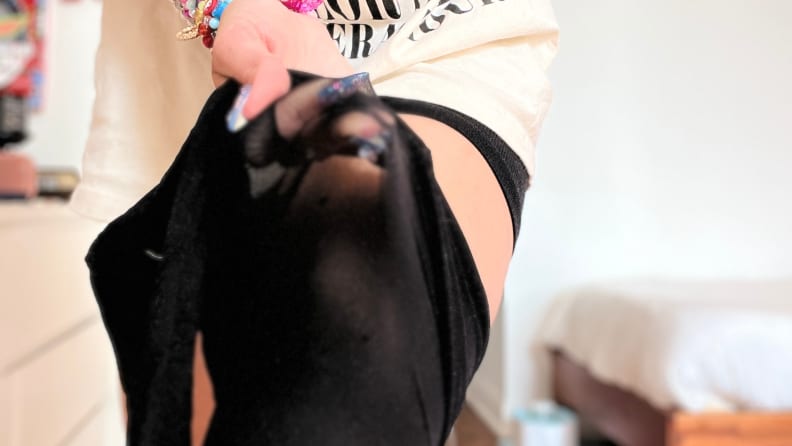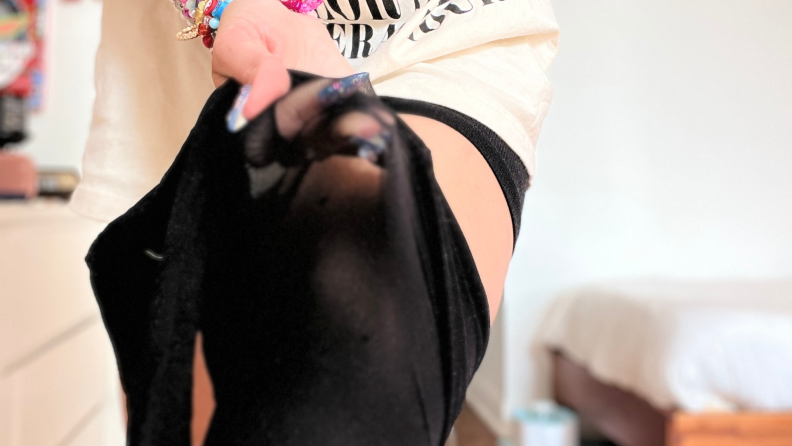 Yes, they are worth the investment
Sheertex tights have a higher price point than other options on the market, but I'd say they're worth it based on the fact that they're accessible and you'll be able to live in these (and reuse them)!
Sheertex tights
Sheertex's rip-resistant tights put other undergarments to shame with their super strong knit material and reinforced waist and toe for virtually impossible tears.
$35 at Amazon
#Sheertex #tights #review #tearfree #tights