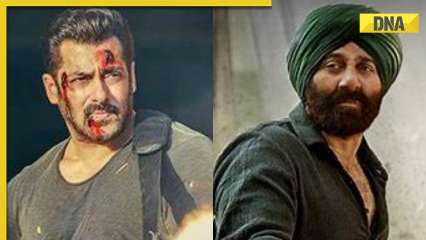 According to reports, after Tara Singh, Salman Khan gears up to enter Pakistan in Tiger 3.
Sunny Deol's Gadar 2 has been grabbing headlines since its release. The movie's plot where Tara Singh crosses the India-Pakistan border to save his son and bring him back home has stuck a chord with the audience. Now, if reports are to be believed, even Salman Khan in Tiger 3 is all set to enter Pakistan in the movie. 
According to a report from Bollywood Hungama, a source close to the development told the entertainment portal, "The story of Tiger 3 is devised in a way that leads to an epic face-off between India and Pakistan. While Salman Khan plays Tiger in Tiger 3, he will be facing off Emraan Hashmi's ISI turn of Aatish in Tiger 3. It's going to be fireworks on the screen as two spy agents from India and Pakistan are ready for an epic blast this Diwali." 
The source further added that a short teaser of the movie will be out with Jawan and said, "YRF is confident that the epic RAW vs ISI battle in Tiger 3 will set the box office on fire. Much like Tara Singh, even Tiger is among the most iconic characters of Indian Cinema, and the common thing that links them is Pakistan." 
Helmed by Maneesh Sharma, Tiger 3 stars Salman Khan, Katrina Kaif, and Emraan Hashmi. According to reports, Emraan Hashmi is set to play the antagonist in the movie which is scheduled to release this Diwali. YRF's spy film will also have Shah Rukh Khan's action-packed extended cameo in the movie and after Pathan, SRK and Salman will be reuniting on the big screen. 
Meanwhile, talking about Gadar 2, helmed by Anil Sharma, the movie stars Sunny Deol, Ameesha Patel, and Utkarsh Sharma along with Manish Wadhwa, Luv Sinha, Simrat Kaur, and Gaurav Chopra among others in key roles. The movie has collected Rs 230 crore worldwide in just 4 days.
Read This superstar to reunite with Karan Johar after 25 years for huge actioner set for Christmas 2024 release: Report
#Salman #Khans #Tiger #plot #similar #Sunny #Deols #Gadar #Heres