Ronnie Hawkins – Who Do You Love? (1963)
Robbie Robertson's early career is distinguished by his tenure in the Hawks, the group of musicians that would later evolve into the Band. In the early 1960s, the Hawks backed the Arkansas-born frontman Ronnie Hawkins, touring the US and Canada and cutting a few studio singles. One of these records, a cover of Bo Diddley's Who Do You Love?, reveals Robertson to be a lithe blues guitarist with a smouldering tone and a knack for shaping his livewire riffs around Hawkins' wildfire vocals and the rest of the band. The Last Waltz version of this song, featuring an exuberant reunion of Hawkins with the now-veteran players, is just as good.
Bob Dylan – Like a Rolling Stone (The Bootleg Series, Vol. 4, Bob Dylan Live 1966)
Robertson was a crucial part of multiple Bob Dylan career peaks: integral to the sound on 1966's Blonde on Blonde, a core member of The Basement Tapes jam sessions, and his usual driving presence on 1974's live album Before the Flood. However, Robertson and the Hawks were also on tour with Dylan for the songwriter's legendary 1966 performance at Manchester's Free Trade Hall. Right before Like a Rolling Stone, a fan heckled Dylan with a cry of "Judas!". Dylan lobbed back his own insults ("You're a liar!"), and launched into a howling, sprawling electric version of the hit. Equal parts confrontational and languid – at times, Dylan and the Hawks sound like they're luxuriating in their defiance – the song showed off the chemistry that would soon make the Band stars in their own right.
The Band – The Weight (Music from Big Pink, 1968)
The live version of The Weight from The Last Waltz might be more famous, thanks to vocal contributions from the Staple Singers. But the original studio version of Robertson's mischievous signature song was a blueprint for much of the Band's best work. Inspired by Robertson's viewing of Luis Buñuel movies, the soulful roots-rock tune feels more like a short story: the song muses about life's vicissitudes through the lens of vibrant characters and the use of biblical imagery. With its swinging grooves, bar-band piano and keening vocals from Levon Helm and Rick Danko, The Weight is wistfully nostalgic but spiritually uplifting.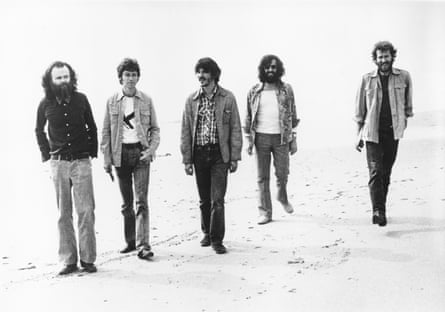 The Band – This Wheel's on Fire (Music from Big Pink, 1968)
A highlight of 1975's The Basement Tapes, This Wheel's on Fire actually surfaced first as a Band song. Freckled with psychedelic flourishes, Danko's slightly alarmed vocals, and Garth Hudson's mad-scientist-in-a-lab keyboard effects, This Wheel's on Fire demonstrated the forward-thinking approach of the Band at this stage of their career. Fittingly, This Wheel's on Fire has remained a pop culture staple for decades; Brian Auger and the Trinity with Julie Driscoll, Siouxsie and the Banshees, and Kylie Minogue have all covered the song.
The Band – King Harvest (Has Surely Come) (The Band, 1969)
With their 1969 self-titled album, the Band not only avoided a sophomore slump – they perhaps even eclipsed their debut. Robertson certainly exhibited sharp songwriting on the LP, with one highlight being the album-closing King Harvest (Has Surely Come). A funky slice of Americana boogie, the tune is a cautionary tale centring on the saga of a farmer yearning for a healthy harvest. He's thwarted both by poor weather conditions and a union boss that doesn't have his best interests at heart. Robertson deftly juxtaposes these themes, revealing illuminating truths about power and oppression.
The Band – Ophelia (Northern Lights – Southern Cross, 1975)
As their career progressed, the Band fell prey to the same foibles that other groups experienced, mainly creative dissension and substance use issues. That didn't always diminish their creative powers, going by a jaunty Robertson tune like Ophelia. Garnished with warm orchestration like horns and woodwinds, the strutting song has a sunny vibe despite downtrodden lyrics: it laments the disappearance of a woman named Ophelia, who seems to have left town for reasons unknown ("Was it something that somebody said? / Mama, I know we broke the rules / Was somebody up against the law?"). Although Ophelia's character is never fleshed out, Robertson's pleading tone and enigmatic hints make listeners care about her whereabouts – and want to learn more about who she is.
The Band – Up on Cripple Creek (The Last Waltz, 1978)
Farewell concerts rarely sound this fired up. But when you're a barnstorming live act like the Band – and bring along friends such as Bob Dylan, the Staple Singers, Joni Mitchell, Neil Young and more – you're bound to throw a raucous party. Recorded in 1976 but released two years later, the live album contains an incendiary version of one of the Band's signature tunes, the self-titled album's Up on Cripple Creek. The performance demonstrates the Band's live chemistry and ability of the members to feed off of one another – but is especially a vibrant showcase for Robertson's white-hot guitar flourishes and jubilant vocal harmonies.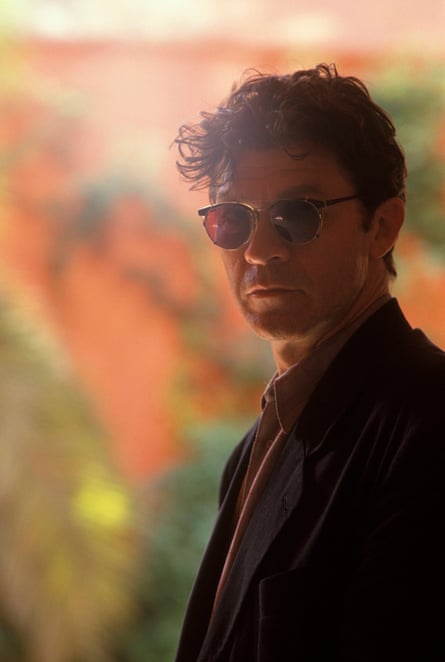 Robbie Robertson – Fallen Angel (Robbie Robertson, 1987)
Robertson didn't rush into making a solo record after parting ways with the Band. But when he did emerge more than a decade later, he went all-out, teaming up with producer Daniel Lanois and collaborating with artists such as U2, Maria McKee, and Ivan Neville. The resulting self-titled album is ambitious and cinematic, distinguished by the gauzy highlight Fallen Angel. Co-written with Martin Page and featuring guest vocals from Peter Gabriel, the single is a heartfelt, aching tribute to Robertson's one-time bandmate Richard Manuel, who died by suicide in 1986. The lyrics brim with grief, anger and resignation, but maintain a moving emotional tenderness.
Robbie Robertson – Breakin' the Rules (Storyville, 1991)
For his second solo album, Robertson worked with dozens of musicians, including the Rebirth Brass Band and multiple horn sections, to craft a collection of songs indebted to jazz and the music of New Orleans. Breakin' the Rules skews minimalist, for good reason: it's a gorgeous, crestfallen collaboration with The Blue Nile – Paul Buchanan contributes vocals and guitar, while Robert Bell chimes in with bass and drum programming – that meditates on an unhealthy relationship which needs to end. Breakin' the Rules also appeared in the 1991 Wim Wenders movie Until the End of the World.
Robbie Robertson, Ghost Dance (Music for the Native Americans, 1994)
Robertson weaved references to his Mohawk and Cayuga heritage into his art on his 1994 solo album, which he recorded with a collective of musicians called the Red Road Ensemble for a TV documentary the Native Americans. Ghost Dance is particularly stunning. Although sonically an echo of his gorgeous, glacial solo work with Daniel Lanois, thematically the song is a powerful statement on reclaiming – and preserving – identity, tradition and heritage in the face of violent oppression: "They outlawed the Ghost Dance / But we shall live again, we shall live again."
#Robbie #Robertsons #recordings #Bob #Dylan #Band #Band