When Iván Fischer and the Budapest Festival Orchestra come to town, expect the unexpected. It's not just that they eschew auditions, preferring to recruit like-minded musicians with shared views on how classical music must change if it is going to have a future. There is something about how they play, the visceral, physically dynamic way they move as one, that turns a concert into a communal act for orchestra and audience. Clearly word has got around. For the first of three Proms appearances in the orchestra's 40th year, the Royal Albert Hall was packed to the rafters.
Given their radical credentials, Saturday evening's prom was a pretty conservative programme, but there was nothing ordinary about the performances. There is a remarkable weight to the golden, glowing BFO sound, assisted by some canny orchestral geography that places the double basses high up at the back and the timpani even higher. Fischer is a bold, sometimes audacious interpreter, urging his players forward with defined, demonstrative gestures. The results are individual, frequently gripping and often thought-provoking.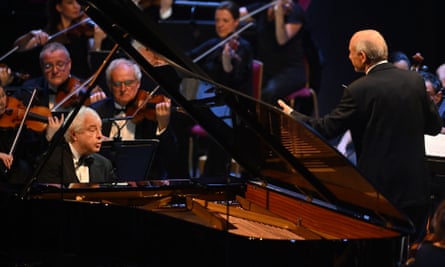 Take their crafted account of the overture to Weber's supernatural opera Der Freischütz. With Fischer, every chord was alive with possibilities, his infallible sense of rubato plucking at the heartstrings and quickening pulses. Equally enthralling was Schumann's Piano Concerto in A minor, often presented as a bustling young man's work, but here, in András Schiff's detailed yet mellow reading, basking in an autumnal glow. With relaxed, elastic tempi, and a keen rapport between conductor, orchestra and soloist, it was like old friends sharing a vintage wine.
There is potential for a similar autumnal nip about Mendelssohn's mist-haunted Scottish Symphony. It can also feel long, but not here. Fischer loves a good tune and knows how to make it sing. His ripely dramatic take combined gossamer textures with gothic romance. The scherzo chirruped with ethereal woodwinds; the Adagio was Elgarian in its nobility. The finale, as each section rose to its feet in turn (even the cellos), was wonderfully theatrical.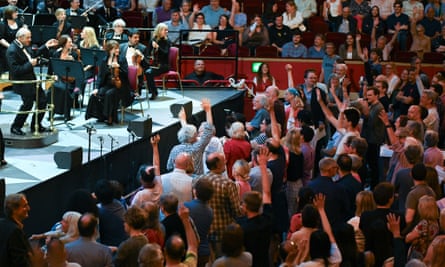 There were more surprises the following afternoon at one of the orchestra's famous Audience Choice events. Through an arcane combination of popular acclaim and seat numbers drawn from the capacious gullet of a tuba, the audience constructed a fantasy symphony from a list of 265 potential movements. The result was admittedly a bit of a Frankenstein's monster, with the bleeding head of Tchaikovsky's Fourth Symphony grafted on to a torso made up of Beethoven's Pastoral, Dvořák's Seventh and Mendelssohn's Scottish Symphony (again), but with Fischer the most genial of hosts, who cared? And while the librarian scurried around doling out the music, the crowd was entertained with Hungarian jazz, klezmer and even orchestral musicians singing a Monteverdi madrigal. Now, there's versatility.
#Proms #Budapest #Festival #OrchestraFischer #review #bold #theatrical #enthralling #Classical #music