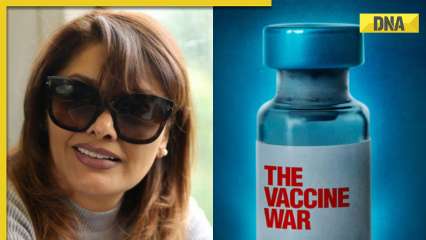 Directed by Vivek Agnihotri, The Vaccine War also stars Anupam Kher, Nana Patekar, Raima Sen, and Mohan Kapur in the leading roles.
Pallav Joshi is awaiting the release of her upcoming film The Vaccine War, which is based on India's battle against Covid-19. Directed by her husband Vivek Agnihotri, the film also features Nana Patekar, Raima Sen, Anupam Kher, Girija Oak, Sapthami Gowda, and Mohan Kapur in the leading roles and will release worldwide in cinemas on September 28.
Since the film's trailer was released, some people are calling The Vaccine War a 'agenda-driven' film, just like Agnihotri's previous film The Kashmir Files, which was released in March last year and was based on the 1990s exodus of the Kashmiri Pandits from the Kashmir. The film turned out to be a blockbuster and grossed close to Rs 340 crore worldwide.
Reacting to such people, Pallavi Joshi told News18, "I don't have anything to say to them because they aren't my audience. They aren't the kind of people who will understand the sentiment of the country. Many called The Tashkent Files a propaganda film. Lal Bahadur Shastri was a Congress leader. So, how is it a propaganda film, I don't understand. If they're listening to me, I would ask them to watch The Vaccine War once and then decide for themselves what this is. But I know that they won't watch it because they'll get converted once they see it."
Touted to be India's first bio-science film, The Vaccine War will clash at the box office with Fukrey 3, the third part of the comedy franchise and starring Richa Chadha, Varun Sharma, Manjot Singh, Pulkit Samrat, and Pankaj Tripathi in the lead roles. Earlier, Prabhas and Prashanth Neel's Salaar was also slated to release on September 28 but has now been postponed.
READ | The Vaccine War: R Madhavan watches Vivek Agnihotri film at USA screening, says 'totally blown out of my mind'
#Pallavi #Joshi #shuts #trolls #calling #Vaccine #War #agendadriven #film #arent #audience