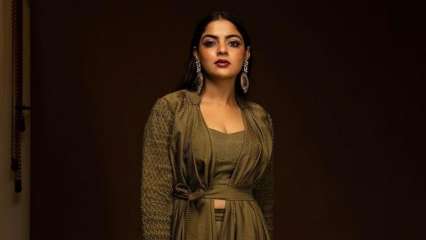 Por Thozhil star Nikhila Vimal opens up on her limited screentime in the movie and talks about her Bollywood debut.
Nikhila Vimal, a popular actress who works predominantly in Tamil and Malayalam cinema, is best known for her roles in movies like Aravindante Athidhikal, The Priest, and Bruce Lee, recently featured in Tamil crime thriller Por Thozhil. 
After garnering much praise, and making a mark on the big screen, the crime thriller was recently released on OTT platform Sony LIV. Meanwhile, Nikhila Vimal expressed her wish to work with Ayushmann Khurrana and Rajkummar Rao in movies and also shared the reason behind choosing the role despite having a limited screentime in an exclusive chat with DNA. 
Nikhila Vimal has impressed audiences with her performance in several Malayalam and Tamil films, however, when asked about her plans to make her Bollywood debut, the actress replied, "I don't know when it may happen but I would like to work with Rajkummar Rao and Ayushmann Khurrana. I recently watched some very good movies of the actors and yes would want to work with them." 
The actress also opened up on the reason behind choosing the role in the movie despite having a limited screen presence and said, "When he came in and narrated the script to me, he told me the role is very small but I wanted to hear the whole script to know what he has for me. So when he narrated the script, it was so interesting that even if my part is very small, I find it nice to be a part of a film like this because I was very sure that people like like it and recognize it as a good movie and I wanted to be a part of a good movie. 
When asked about her view on actresses being cast mostly as heroes' love interests in Malayalam films, the actress replied, "It's not just Malayalam films, but more of Indian movies thing, but now people are getting offers with good performance scope in it. So maybe in the future, as everyone keeps talking about it, people might think to make a change." 
Helmed by debutant director Vignesh Raja, Por Thozhil stars Sarath Kumar, Ashok Selvan, and Nikhila Vimal. Produced by Applause Entertainment in association with E4 Experiments & Eprius Studio, the movie is written by Vignesh Raja and Alfred Prakash and is currently streaming on Sony LIV.
Read Por Thozhil star Ashok Selvan reveals his uncle's death changed him as person | Exclusive
#Nikhila #Vimal #opens #limited #screentime #crime #thriller #Por #Thozhil #Wanted #part #of..