Liam Gallagher, British rock star, is not known for smiling. Having stared down from stages and out from magazine covers for more than 30 years, eyeballing all-comers to step outside, it's as though the younger Gallagher brother remains the brooding focal point not just for his erstwhile band Oasis – or his own solo afterlife, now three hit albums strong – but for the whole concept of moody rock stardom itself.
"ROCK'N'ROLL", declares a shiny silver backdrop – in all capitals, like his tweets. Gallagher's solo band includes a peak of four guitarists and, occasionally, two drummers, three backing vocalists, alongside keys and bass. It's an outfit more suited to demolishing an arena than this compact Camden venue, which naturally sold out in seconds.
Gallagher strolls on stage, deliciously on-brand in a cagoule, shoulders down, face rising up to meet the microphone as he blares out Morning Glory from Oasis's 1995 LP (What's the Story) Morning Glory? as a how do you do. In a musical landscape increasingly dominated by acts pumping out ancillary video content on socials, servicing fans 24/7, he feels like one of the last bastions of the idea that singers should not be approachable, or like the rest of us; that they should come mob-handed, with bone structure and maracas.
When he eventually does smile, though, it's perfect. During the guitar solo for Live Forever – another fan fave, late in an Oasis-heavy set – Gallagher puts his shiny tambourine between his teeth, the instrument's half-moon shape creating a huge Cheshire cat grin. He stands, stock still, hands stuffed in pockets, basking in the love of the crowd.
Gallagher has a lot to smile about. In no particular order: Paul "Bonehead" Arthurs, Oasis rhythm guitarist, is back in his band after cancer treatment. Gallagher himself has healed from a double hip operation that postponed his planned wedding earlier this spring. He's not exactly dancing, but strolls casually enough around the stage. Almost as nonchalant is Gallagher's teenage son, Gene, who plays a small drum kit every so often, then scuttles off.
This bijou gig marks the release of a Gallagher solo live album, Knebworth 22, capturing highlights from his two sold-out nights at the massive Stevenage stately home last year. Those nights echoed the Oasis Knebworth gigs in 1996 – landmark shows that marked peak Britpop. Liam at Knebworth seems to have kicked off peak Britpop nostalgia too: Blur's reunion is going great guns and Pulp have toured again to great reviews.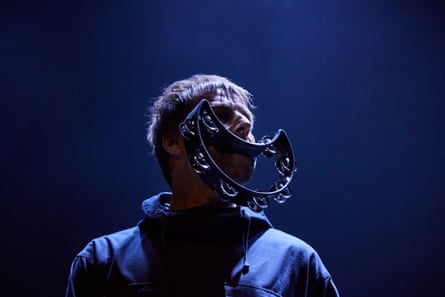 Moreover, Liam selling out Knebworth solo felt like the definitive mic-drop in the continuing spat between Liam and his guitarist brother, Noel, Oasis's songwriter. Oasis broke up in 2009 when Noel dramatically quit before a gig in France, citing his brother's behaviour as the reason. In the aftermath, the rump Oasis lineup carried on as Beady Eye, while Noel founded his next band, High Flying Birds. For a while, it felt as if Noel, the creative, was doing notable things while Liam, the shopfront, was coasting with Beady Eye. Liam's marriage broke down; he cut ties with his Pretty Green fashion label; and Beady Eye split, in part so that guitarist Andy Bell would be free to reform Ride, his Britpop-era shoegaze band.
Steadily, though, the younger Gallagher has been bouncing back in a way few might have predicted. For his debut solo album, 2017's As You Were, he teamed up with US songwriter-producers Greg Kurstin (Adele) and Andrew Wyatt (Bruno Mars, Lady Gaga), who, alongside a handful of other bespoke musical tailors such as Simon Aldred, have supplied Gallagher – and his fans – with scads of on-brand material and a second act.
Tonight, some of those songs are even greeted with the kind of arms-aloft, flying-beer, phones-out enthusiasm Liam gets for the Oasis tracks. Once (2019) is a ballad that looks back not in anger, but with nostalgia, at past times. Upon its release, many read it as an olive branch to Noel. "You went down so easy like a glass of wine, my friend," sings Gallagher, in fine voice, as phones light up the room. More Power is a ballad from his most recent outing, last year's C'Mon You Know, that also goes down well, despite not making all that much sense and opening with a canned children's choir.
It would be unwise to read too much into Gallagher's words, though. In an interview with Mojo magazine around the release of C'Mon You Know, he made the point that others write the tunes – his job is to wear them well. You may even note that a lot of Liam's solo catalogue sounds so Oasis-y as to be actionable. Noel, though, probably knows better than to sue. Because then Paul McCartney may have to enter the fray.
If some of Gallagher's solo tracks fare less well – Paper Crown is a lull – there is nothing but joy for the Oasis classics. Cigarettes & Alcohol, with its T Rex gong-banging, marks the point where Oasis bottled the defiant hedonism of the 99%. Modern life is rubbish, it declared (not unlike Blur) if you were raised on a diet of broken biscuits (like Pulp). Unexpectedly, Gallagher closes on a cover of Jimi Hendrix's Are You Experienced, brandishing both tambourine and maracas, his microphone stuffed into his mouth.
Will Oasis catch reunion fever? Damon Albarn's got money on it. Tabloid speculation has indicated it may be on the cards, perhaps for 2025, the 30th anniversary of (What's the Story) Morning Glory?. The brothers' public sparring has kept the reunion prospect perennially in the gossip cycle. Indeed, you could argue that Liam, consummate custodian of the old-school flame, has been keeping the tunes warm, perhaps for just this eventuality.
#Liam #Gallagher #review #eventually #smile #perfect #Liam #Gallagher