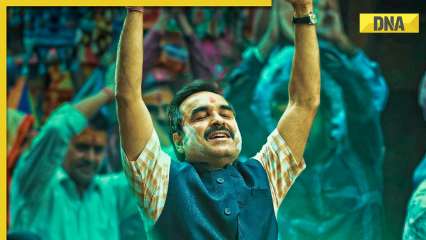 Headlined by Pankaj Tripathi and Akshay Kumar, OMG 2 is the spiritual sequel of the Umesh Shukla-directed hit film OMG – Oh My God! released in 2012.
Starring Akshay Kumar as Lord Shiva's messenger and Pankaj Tripathi as Lord Shiva's devotee, the satirical comedy-drama OMG 2 has been released in the theatres on Friday, August 11. The film also features Yami Gautam, Pavan Raj Malhotra, Govind Namdev, Aarush Varma, Arun Govil, and Brijendra Kala in supporting roles.
In an interview with indianexpress.in, Pankaj Tripathi shared that he makes sure to take out time for good scripts which he feels must be made into a film, as he stated, "Mera dimaag sahi hai (my brain is working right). I read and choose good scripts. If I come across a good script, I don't let it go. It is a matter of coincidence that in my initial days, I was not in the situation to choose scripts as I was struggling to find opportunities in the first place. So my journey is from managing to find work to being able to choose good work. Now when I listen to good scripts and even if I don't have time for it, I make sure I try to make time for it because I feel these stories are substantial and important."
The National Award-winning actor further added that he had initially refused OMG 2 due to pauciy of time. "When I heard OMG 2 for the first time, I didn't have time for three-four months, so I had told them that I don't have time for the next five months. The person who was lining it up for me then asked me to do a meeting (with the makers) and listen to the story once again and then decide. After the meeting, I told them I don't have the time and asked them to give me a couple of days to somehow remove some time for it. That way, on the third day, I had managed to clear my schedule for 55 days for OMG 2. I realised that it is an important film and I have to do it. It matches my sensibilities. I think till now, mostly, I have been able to choose the right scripts, so I feel mera dimaag sahi kaam kar raha hai (my brain is working right)", Pankaj said.
OMG 2 is the spiritual sequel of the Umesh Shukla-directed hit film OMG – Oh My God! released in 2012. The Amit Rai directorial has received positive reviews from audiences and critics, who are hailing the makers for presenting a nuanced and sensitive take on why it is of utmost importance to include sex education in the curriculum.
READ | OMG 2 movie review: Akshay Kumar, Pankaj Tripathi film is much better than part 1, makes strong case for sex education
#told #dont #have..