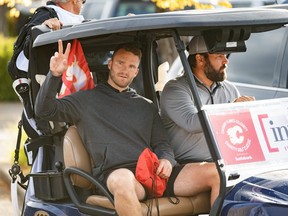 Article content
With the flash of a smile and a dash of self-deprecating humour, Jonathan Huberdeau put a positive spin on what was a frustrating first season with the Calgary Flames.
Article content
"It's gonna be easy to be better than last year," he deadpanned at the Flames' annual fundraising golf tournament. "I'm kinda done talking about last year."
Article content
Good news, Jonathan … With the Flames set to open training camp on Wednesday, it is officially — and finally — next year. For this star left-winger, it's redemption season.
Huberdeau made history in his first campaign in Cowtown, and not in a good way.
The blockbuster trade acquisition mustered only 55 points in 2022-23, less than half his total the previous winter on behalf of the Florida Panthers. With that underwhelming stat-line, he set a rather-not-have-it record for the NHL's largest offensive fall-off from one season to the next.
It wasn't exactly what he, or anybody in southern Alberta, was expecting. Far from it.
Article content
"This summer, I got the confidence back," Huberdeau assured. "I just feel way better coming back. Last year, I was a little nervous. You know, new team, stuff like that. But now, I feel confident, I can be myself and I think it's going to show. On the ice, I felt heavy last year. Now, I'm lighter on my shoulders and I feel way better mentally, too.
"I think that was my biggest challenge this summer — to get the mental back where it needs to be. Now it is, and I feel comfortable to start the season."
Huberdeau, who turned 30 in June, is so driven to remind everybody what he is capable of that he likely wishes it was already the second week of October. In the Flames' locker-room, he isn't the only difference-maker who is determined to put a disappointing winter in the rearview mirror.
Article content
There's plenty of reason to be optimistic that Huberdeau can rediscover his old form. Remember, the ace playmaker had averaged upwards of a point-per-game in four consecutive seasons before being traded to Calgary. We're not talking about a one-hit wonder.
He's now settled at the Saddledome and in the city. Both he and his blue-line buddy, MacKenzie Weegar, have admitted they may have underestimated how difficult it would be to adjust after that stunner of a swap between the Flames and Panthers.
Part of that is they're now accustomed to the glare of the spotlight in a market where it's all hockey, all the time. The pressure certainly won't dissipate — especially not with Huberdeau signed to the largest contract in franchise history, an eight-year mammoth with an annual cap-hit of US$10.5 million — but it will feel a little more normal.
Article content
Huberdeau tops the list of Flames who should benefit from a coaching change. He and Darryl Sutter mixed about as well as ice cream and beef jerky. (I was going to say pineapple and pizza, but I'm led to believe that some yahoos actually think that is a tasty combo.)
Calgary's new bench boss, Ryan Huska, undoubtedly had No. 10 in mind when he declared at his introductory press conference: "On the offensive side, I want our guys to be creative."
After Huberdeau averaged only 16:51 per night last season, his lightest workload since 2014-15, incoming general manager Craig Conroy has promised: "I think you're going to see those top guys on the ice more."
And then, the rest is up to Jonathan.
He needs to be more impactful on a power-play that ranked in the bottom-half of the league.
Article content
He needs to be more effective in overtime. The Flames, who ultimately missed the playoffs by just two points, were the Three Stooges of Three-on-Three in 2022-23, with 17 beyond-regulation losses.
He needs to establish some chemistry with top-line centre Elias Lindholm. It would be a major surprise if they're not skating side-by-side in Thursday's initial practice session. Word is, Yegor Sharangovich will likely get the first look on their right wing.
The Flames, simply put, need Huberdeau to be better in his second campaign in Calgary. He knows it. He's said it. Now, with a new season upon us, it's time to show it.
"I know it's the way it's going to be for the first little bit, but there's so much talk about last year and I don't want them to worry about that," Huska stressed during an interview on Sportsnet 960 The Fan. "I don't want them to look three days down. I want them to stay where they are and be their very best version of themselves on this given day, because I feel like that's how you get the best out of everybody.
Article content
"The way Huby is right now, he's in a great space. I want him to stay focused on his job, and that holds true for all of our players. That's going to be one of our bigger messages this year — you don't worry about what happened 10 minutes ago, because you can't do anything about it. It's the same with what's going to happen 10 minutes from now. You don't know what's going to happen, so stay in the moment.
"It's something that is talked about a lot and it's a really hard thing to do, no matter what walk of life you're in. But we have to try to get our players to do that, to really focus on being present all the time, and you're going to see the best out of them if they're able to do that."
wgilbertson@postmedia.com
X: @WesGilbertson

#Huberdeau #ready #rebound #Flames #confidence