Howling Pelle Almqvist, singer
When we were five or six we had a band at home in Sweden called Stallion. The logo was our drawing of two amplifiers connected. Niklas [Almqwist, brother] and our neighbour had got drums and guitars for Christmas. I didn't get an instrument, but there was a mic, which made me the singer. I couldn't sing and maybe I still can't, but it was never about that.
When we became a proper band in 1993, people who came to our early shows said that even though we were terrible, we were entertaining. There was a lot of screaming and jumping about and a conversational element. We were really out of vogue, which separated us from what everyone else was doing, which in Sweden was either death metal or shoegaze. None of the bands we liked ever made any money, and we thought the bands that did were bad. So we assumed we'd play what we liked for a couple of albums and then get "real" jobs. Then the world turned.
Suddenly there was – for want of a better word – a garage rock revival. We started hearing about the Strokes and the White Stripes, and all three of us became popular at around the same time. We'd played 250 shows a year for four years and every time we'd go back to a place the audience would have doubled.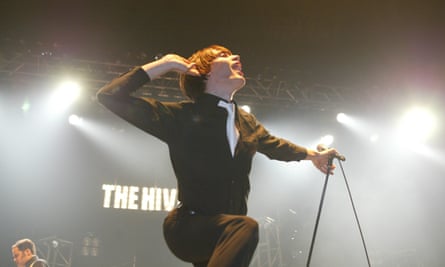 Alan McGee saw our video us on TV in Germany and immediately wanted to make a record with us, but we'd put all our songs out on our first two albums. Together we came up with the idea of putting the best songs from both together on one album, which became Your New Favourite Band and broke us in the UK. The title was ballsy and funny because we didn't actually have any hits, but maybe if you say something enough people start believing it.
When we recorded Hate to Say I Told You So the producer Pelle Gunnerfeldt didn't like the song. He thought it was boring trite rock – like a Swedish ZZ Top or something – so made all these sonic changes like adding the swooshing effects, which were all the way through the song at one point. When we went back in the studio later, I got him to remix some songs with me and we changed the arrangement. Having less of the swooshy fast guitar made the end more intense. It was all very collaborative in the sense that a lot of people worked on it at different times.
Vigilante [Carlstroem, rhythm guitar] really liked the song so he recorded my vocals after the producer had gone to eat or something. As I recall, the basis of the song was Nik and Chris [Dangerous, drums] having a row, but I think I came up with the phrase "hate to say I told you so". The riff is obviously important. As soon as we go into it, the temperature of the room will change.
Niklas Almqvist AKA Nicholaus Arson, guitar
When we had the band at home we'd just smash everything up at once, then play some guitar without really knowing how, but it was energetic. Essentially it's the same thing we're doing now, but with even less structure. Once we became a proper band we were a cross between the punk music we liked and 60s music, because a record store in Fagersta – where we grew up – sold cheap 60s compilations. For the price of one punk record, you could get three of those. People said we reminded them of the Sonics, but we'd never heard of them.
There was a comic strip in Mad magazine called Spy vs Spy, where a black spy and a white spy would duke it out, which gave us the idea for wearing only black and white. Pelle dressed in the monochrome opposite of what the rest of us wore, like a photo negative.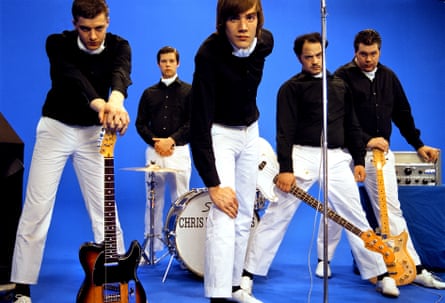 We'd been a proper band for about seven years when Hate to Say I Told You So came out. Initially it was a song on our second album, Veni Vidi Vicious. The riff was like striking gold in a sense, because you're constantly trying to come up with ideas and then something like that comes along. You just have to flesh it out, to make a song out of it.
We wanted to make it very simple, like the Stooges, the Monks or AC/DC. There was also a punk band called Electric Frankenstein who'd play one riff over and over, then change to a different riff for the second part, which we found very interesting. The title Hate to Say I Told You So is a sort of know it all phrase which just fitted the riff perfectly. It's been our signature song ever since. We've probably played it at every single show since we recorded it.
The Hives' new album The Death Of Randy Fitzsimmons is out on 11 August. The band tour the UK in March and April 2024.
#Hives #Hate #Told #riff #striking #gold #Hives