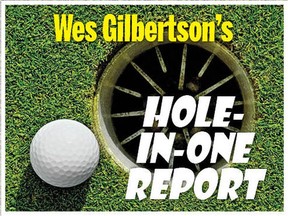 Article content
This seems to be a special spot for Calgary's Tallis Goulard. A year ago, the scenic sixth hole at The Rise in Vernon, B.C., served as the backdrop for Goulard's wedding photos. She recently returned with her golf clubs and aced that picturesque Par-3 with a postcard-worthy wedge from 89 yards out.
Article content
Owen Berrett, a junior member at Pinebrook, returned from B.C.'s Columbia Valley with a story to tell. The 15-year-old buried a beauty on the seventh hole on Copper Point's Ridge Course. Berrett smashed a seven-iron from the 172-yard blocks.
Article content
Mike Nash finished the club championships at Willow Park with a walk-off, sinking his tee-shot on No. 18 on the closing day of competition. Nash nailed a seven-iron from 182 yards back.
An ace on No. 4 at McCall Lake was a highlight of Cucu Chandra's recent visit to Calgary from Indonesia. Chandra was beaming after a nice nine-iron that covered 104 yards. As her husband proudly reported: "Excited? Her feet didn't touch the ground for a few minutes."
It must have been a busy week for beverage sales at Hamptons, with three members draining aces over a three-day span. Tim Ng started the party with his third career hole-in-one, an accurate eight-iron from 125 yards away on No. 9. Isaac Gervais continued this hot streak — and upped his lifetime count to six — with a heat-seeking hybrid from 170 yards on the fifth. Last but not least, Jason Luan swished a sweet six-iron on the ninth.
Article content
Hole 13 at Maple Ridge is a downhill dandy, so Troy Nowakowski must have had a splendid view of this pin-seeker. Six-iron was the right call for a 185-yard challenge.
Brody Mark carded a hole-in-one for the second straight summer. Mark made short work of No. 11 at Valley Ridge thanks to a nifty nine-iron from 127 yards out.
Dawn Burnham, satisfied that this shot was headed the right direction, was already retrieving her tee. Her two sisters were still watching the ball and were adamant that Burnham had just aced No. 17 at the Bridges of Claresholm. Indeed, after slugging a six-hybrid into a strong wind, she discovered her ball at the bottom of the cup 142 yards away. A hole-in-one, and a lesson learned. As Burnham put it: "I vowed to watch every ball I hit to the very end."
Article content
Corinne Carpenter cruised through No. 11 at Douglasdale, finishing her business with a super sand wedge from 95 yards.
Ullrich Vielguth was one-and-done on No. 13 at McCall Lake, finding the flag-stick with a four-iron from a distance of 165.
Jake Hazzard and Benjamin Kim can compare notes after same-day aces at Fox Hollow. Hazzard was perfect with a pitching wedge on the 120-yard fourth hole, while Kim smoothed a seven-iron on No. 11 and his aim was outstanding from 142 yards away.
Guy Oppenheimer will be saying only good things about his seven-iron, his weapon of choice for a 150-yard memory-maker on the second at Fox Hollow.
Marlene Wisnoski had an ace up her sleeve on club-championship weekend at Carnmoney. Hole 13 proved lucky for Wisnoski, who launched an eight-iron across the water and was right on target from 106 yards out.
Article content
Colin Andrews scribbled a '1' on his scorecard after this superb shot on the seventh at Muirfield Lakes. Andrews hammered a hybrid and then made the 139-yard commute to retrieve his ball from the bottom of the cup.
Ray Allan was flawless with a five-iron on No. 6 at Willow Park, which spans 150 yards.
Frank Simari completed his personal hole-in-one hat-trick. His latest was a stellar seven-iron on No. 6 at D'Arcy Ranch, which measures 169 yards.
Cash Verjee skipped the putting portion on the third hole at Valley Ridge, completing that 136-yard test with one knock of a nine-iron.
Brad Carlson gave the boys something to celebrate with a men's night ace at Carnmoney. Carlson potted a pitching wedge on the 123-yard fourth hole.
Brodie McRae breezed through the seventh on Shaganappi's Valley Nine. McRae was spot-on with a six-iron from 170.
Report the details of your ace to wgilbertson@postmedia.com
#Holeinone #report #Calgarian #celebrates #ace #memorable #place