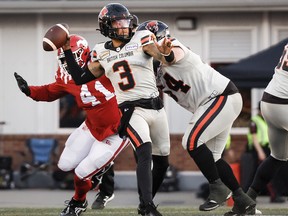 Article content
It doesn't really matter to the Calgary Stampeders whether Vernon Adams Jr. is at 100 per cent.
Article content
The B.C. Lions quarterback has done lots of damage to the Stamps over the years. He was at the helm when the Lions beat up on the Calgary crew in Week 1 of this season and played well against them in the pre-season, too.
Article content
There have, however, been reports that he's been sporting a big brace on the knee that's kept him off the field for the last couple of weeks.
Could that imply that he'll be less mobile than usual? Will he struggle to move around the pocket and find open receivers?
The Stamps aren't counting on it as they prepare for Saturday's game in Vancouver (5 p.m., TSN, QR Calgary).
"I don't know his health, for me, to comment, but I'm expecting him to be healthy and play well," said Stamps GM/ head coach Dave Dickenson. "He's had a couple games against us early in the year, so he kind of knows who we are and had success against us. We've got to show up and let him know we're there."
Article content
It wouldn't really make sense for the Stamps to be preparing for a reduced version of Adams. His mobility is a weapon, to be sure, but it's not like he isn't capable of standing in the pocket and firing passes to his receivers.
The Stamps know that all too well. In the season-opener, he completed 28-of-36 passes for 300 yards and two touchdowns as B.C. won 25-15 at McMahon Stadium.
With guys like Dominique Rhymes, Lucky Whitehead and Keon Hatcher all racing around in the receiving corps, the Lions have lots of weapons to make Adams' job easier.
Taking the Lions' offence lightly would be a recipe for disaster, and the Stamps know it.
"Everyone, from the backfield to the receiver corps, I was there with them so I know those guys and they make plays," said Stamps linebacker Micah Awe, who suited up for the Lions in 2017-18 and for one game last season before becoming a teammate of Adams with the Montreal Alouettes. "I've played with Vernon, played against Vernon.
Article content
"I think he came in the league around the same time as I did, maybe a bit earlier, but he's a good quarterback. It's going to be a good game. He works hard and he wants to be great, so that's why it's tough, he's never going to give up."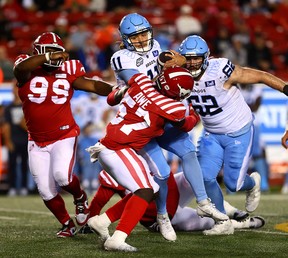 There are reasons to feel optimistic about the Stampeders' chances on Saturday in Vancouver, though. The team is coming off its best game of the season, and with the exception of one broken-coverage play that resulted in a big touchdown for the Toronto Argonauts last weekend, the defence was essentially flawless in the 20-7 win.
The Lions, meanwhile, got slaughtered by the Winnipeg Blue Bombers, 50-14, last weekend. The circumstances of that game were not ideal, though, and it's probably best not to read too much into it. The Lions didn't have Adams and backup Dane Evans got hurt, too, and they were also coming off a short week against a well-rested Bombers team.
Article content
The Stamps are expecting a lot more from the Lions on Saturday and not just because Adams will be available — although that's a big part of it.
Healthy or not, he's a quarterback who can do damage.
"We have to treat him like he's 100 per cent," said Stamps defensive tackle Mike Rose. "Whether he is or not , he's going to give it his all and do what it takes to win the game.
"It's going to be tough either way. They've got great receivers and a great running back."
Stamps know winning in the trenches vital against the B.C. Lions

Receiver Markeith Ambles slots right back in
HE'S BACK
Dickenson confirmed what Stamps followers have basically known all week on Thursday when he acknowledged that running back Ka'Deem Carey will be in the lineup for Saturday's game.
Carey has been on the six-game injured list since Week 1 and getting the team's nominee for Most Outstanding Player last season back should provide a nice boost.
That's not to say Dedrick Mills hasn't been great in his absence. He absolutely has, but a guy like Carey can only help.
"We've had good running back play the whole season. I do expect Ka'Deem to play, to get back in there and he'll help us," Dickenson said. "We'll see how it goes but I fully expect him to be a welcome addition back and help our offence be better."
daustin@postmedia.com
www.twitter.com/DannyAustin_9

#Healthy #Lions #Vernon #Adams #test #Stampeders