Article content
As he prepares for his return to the NHL, Calgary Flames defenceman Oliver Kylington has opened up about his reason for missing the 2022-23 season, telling an outlet in Sweden that he needed to prioritize his mental health.
Article content
His absence had previously been characterized only as a personal matter.
Article content
"It was a very challenging year for me personally," Kylington told HockeyNews, according to a translation. "These are things that have been going on in the family for many years but which escalated to get worse and there were mental and psychological problems I suffered from.
"I think I dealt with the problem like maybe everyone else does, by just sweeping it under the rug and putting the lid on. But for me, it led to mental illness and I felt very bad about how I dealt with my problems and almost went into the wall and felt that now it's enough … I needed to face these problems we had as a family and today I am incredibly grateful for this journey I started and then had to finish."
Article content
Kylington was one of the NHL's best breakout stories in 2021-22, establishing himself as a fixture on the Flames' second pairing.
Flames sign first-round pick Samuel Honzek to entry-level contract

Flames set to raise Miikka Kiprusoff's No. 34 to rafters
He was expected to play a significant role last season, but the team announced just prior to training camp that he would remain home for personal reasons, with no set timetable for his return. He ultimately missed the entire 82-game slate.
"I am incredibly grateful for how many people supported me and helped me get the right help. I really feel like I did myself a big favour," Kylington told HockeyNews. "I just want to play hockey, but when something else in life eats you up from the inside, I just felt that I couldn't focus on the right things and I needed to go back and prioritize what needed to be fixed."
Article content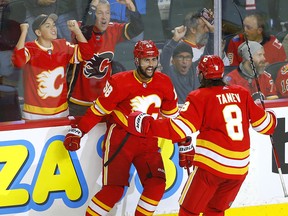 Kylington has been busy training for the upcoming season and there will be a lot of smiles around the Saddledome when the 26-year-old arrives for camp next month. As general manager Craig Conroy said prior to the NHL Draft in June: "Thinking about him coming back, that's going to be a big thing for us."
Indeed, this is very good news for the Flames.
Kylington is a popular teammate and arguably the best skater on Calgary's roster. They missed his ability to distribute the puck and believe he only started to tap into his offensive potential with a career-high nine goals and 31 points in 2021-22.
What's most important, though, is how Kylington responded when asked this simple question by HockeyNews — "How are you today?"
"Fantastic, absolutely fantastic," he replied. "I feel great and it's fun to get started and I'm really looking forward to a new season. I've only felt commitment from the management in Calgary and my teammates, and that helps for sure. It will be fun to get back to my everyday life. I have missed it very much."
wgilbertson@postmedia.com
Twitter.com/WesGilbertson

#Flames #defenceman #Oliver #Kylington #shares #mental #health #struggles