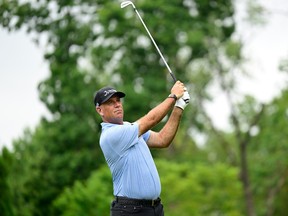 Article content
Stewart Cink, just like you hear from a lot of PGA Tour Champions rookies, is eager to catch up with some of his longtime friends.
Article content
He's just not expecting to see any of 'em Tuesday.
Article content
Before Cink starts his preparations for the 2023 Shaw Charity Classic at Canyon Meadows, he and his wife, Lisa, were planning on a quick trip to the Canadian Rockies. They've picked out a popular hike at Lake Louise.
"We're going to spend most of the day out on the trail," said Cink, who is homebased in hot and humid Atlanta. "I used to do the same thing when I played the PGA Tour event in Denver every year — I'd go out and hike somewhere up in the mountains. But I never could get another golfer to take Tuesday off and go with me. Never could. I was always either by myself or with a caddie or had my trainer with me or just a friend from the area, but never with another golfer. And this year … well, we didn't even ask anybody. It'll just be my wife and I.
Article content
"Both of us, we absolutely love being out in the mountains. I just feel so enriched when I have a day like that, so hopefully it's a good way to start the week."
After Tuesday's climb, the Cinks — Stewart swinging the clubs and Lisa by his side as caddie — will switch their focus to another sort of summit.
It wouldn't be any surprise to see this name near the top of the leaderboard on Sunday afternoon.
While most of the Shaw Charity Classic competitors already know their way around the 7,061-yard layout at Canyon Meadows, Cink is the only gent in the field who is still playing a full schedule on the PGA Tour. Just last month, he was among the early frontrunners at the British Open. He ultimately finished T23 at Royal Birkdale, shooting the same four-round score as Scottie Scheffler and Jordan Spieth, among others.
Article content
For Cink, who turned 50 in May, this will mark his third start among the seniors. He only committed to Calgary after missing the cut-off for the FedEx Cup playoffs.
"It's a huge opportunity because now I go from being one of the oldest players in the field to one of the youngest players in the field, and so I have a physical advantage," said Cink, who ranked in the Top-50 on the PGA Tour in driving distance this season with an average clobber of 306.6 yards. "I don't always feel super young playing golf, but I don't feel that different than I did when I was 35, so I've been very blessed in that regard.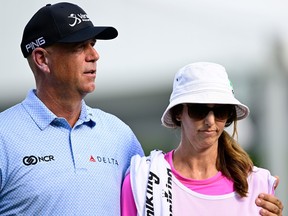 "I still am very enthusiastic about playing golf. I still love the game. I'm still obsessed, or maybe somewhere between obsessed and studiously dedicated to it. I still have fun playing and it just gives me another chance to compete, plus I get to see all my older friends who I haven't got to see as much of in the past several years."
Article content
In an informal locker-room poll, those ol' friends would likely nod to Cink as one of the should-be favourites to receive the white-hat treatment this week as tournament champ. (Former Calgary resident Stephen Ames, fresh off his fourth victory of the season, would be another popular pick.)
An eight-time winner on the PGA Tour, his resume highlighted by a triumph at the 2009 British Open at Turnberry and a hat-trick of titles at Harbour Town, Cink is confident that he can be a top contender among the 50-and-over crowd.
"But I also have a pretty good understanding of golf's randomness," he stressed. "Golf is not wrestling the bull to the ground. You can't go and just expect to brute-force your way to a trophy. Some things have to go well and your preparation has to be really top-notch and you just can't expect to get the results every time. You have to go through the process and do your best and be at your best the most often and let the results happen.
Article content
"And it's not easy. That's one of the hardest parts about the game is that we just don't win very often. I mean, unless you're Bernhard (Langer) and you're winning a lot, or unless you're (Steve) Stricker and you're winning a lot. But it just doesn't happen that way for most people. So you have to be willing to accept and I think the walking through the threshold of winning starts with accepting not winning. You can't go out there with just one thing in mind and everything else is a failure."
Regardless of the result, the Cinks are determined to make the most of their first visit to the Canadian Rockies.
That's why they're starting with a walk through the woods, with an ascent to a stunning viewpoint. A practice round can wait until Wednesday.
Article content
"Probably our favourite place in the world is just a little bit south of the border at Glacier National Park in Montana," Cink said. "We've spent a lot of time there over the years and have always heard people say, 'If you like Glacier, you're going to love Banff.'
"And this time of year, it feels pretty gross down in the south where we live, in Atlanta, so it's nice to get a bit of a reprieve from the humidity and the daily onslaught of heat and thunderstorms. It's going to be nice to be up in the cool mountain air. We just love it. We're really looking forward to it, and I hope that's going to get the tournament week started off just right for us."
wgilbertson@postmedia.com
Twitter.com/WesGilbertson

#Cink #hoping #mountain #magic #trip #Shaw #Charity #Classic