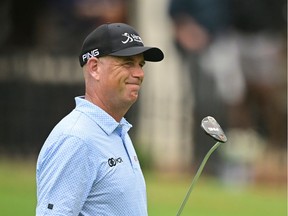 Article content
Several of the biggest names are back. Fred Couples, John Daly, Miguel Angel Jimenez and Mike Weir are all familiar faves.
Article content
The final field for the 2023 Shaw Charity Classic also includes some fascinating new names.
Article content
With the stars arriving in Calgary over the next few days, tournament organizers continued to add to the excitement with news that Notah Begay III, Stewart Cink, David Duval and Boo Weekley have all booked tee-times this week at Canyon Meadows.
For Weekley, who turned 50 in late July, it will mark only his second start on the senior circuit. For Cink, who still plays primarily on the PGA Tour, it will be his third. Begay and Duval, who was once the top-ranked golfer in the world, have been doing more broadcasting than birdie-seeking in recent years.
"Out here, I'm a newcomer and a lot of people don't know who I am," Weekley said from Seattle, where he is logging his PGA Tour Champions debut at the Boeing Classic. "I met a couple guys the other day, I signed a couple hats for them, and then when we were taking a picture, they were like, 'Uh, can we ask who you are?' I was like, 'I'm Boo.' They said, 'Who?' I said, 'Boo Weekley.' And one of them goes, 'Oh, I didn't know you were 50.'
Article content
"But it's fun, don't get me wrong. It's fun to be the new guy again."
When Cink pegs it on the PGA Tour, he's now accustomed to being one of the old guys. He has been a regular on that stage since 1997, totalling close to 700 starts.
Cink's resume is highlighted by his victory at the 2009 British Open at Turnberry, where he defeated Tom Watson in a playoff. He sizzled into contention last month at Royal Liverpool, before Brian Harman cruised to a Claret Jug. He's won eight tournaments at the top level, peaked as high as fifth in the world rankings and is perched among the Top-20 on the all-time money list.
Cink topped a PGA Tour leaderboard as recently as 2021, at the age of 47. He turned 50 in May but didn't immediately book a trip to Calgary because he was hoping to secure a spot in the FedEx Cup playoffs.
Article content
"When I talk to some of my friends who play PGA Tour Champions, it's one event that just keeps coming up in conversation about, 'Oh yeah, these are the great events … ' " Cink said. "And so I kind of had a little fake circle drawn on the calendar as a backup to playing in the FedEx Cup. Apparently, the FedEx Cup didn't let the Top 168 in this year, so I find myself being off for a few weeks and my mind pretty quickly gravitated toward coming to Calgary for the Shaw Charity Classic.
"I hear it's a great tournament. I'm really looking forward to it."
After the Boeing Classic wraps Sunday afternoon in Seattle, the sharpshooting seniors will be en route to Calgary.
The tournament week itinerary includes Tuesday's last-chance qualifier at Lynx Ridge and two days of RBC Championship Pro-Am action. The serious business runs Friday-Sunday, with a US$2.4-million prize purse and the white-hat treatment for the tournament winner.
Article content
The Shaw Charity Classic always attracts a star-studded field, and this 11th instalment is no exception.
The tee-sheet includes four World Golf Hall-of-Famers — Couples, Colin Montgomerie, Mark O'Meara and Vijay Singh — and 13 major champions.
Between them, these gents have combined for nearly 300 victories on the PGA Tour. That total received a nice bump with Saturday's final commitments. Duval has 13 trophies on his mantle, while Begay triumphed four times during a 10-month span before injuries started to take a toll and Weekley collected three Ws while winning over fans with his laid-back demeanour, southern drawl and great sense of humour.
The most notable absences in the 78-man field for this week are Bernhard Langer, who has claimed the most tournament titles in PGA Tour Champions history but has enjoyed limited success — at least by his lofty standard — at Canyon Meadows, and Steve Stricker, who sits atop the Charles Cup Schwab standings but is focusing on his vice-captain duties for Team USA for the upcoming Ryder Cup.
wgilbertson@postmedia.com
Twitter.com/WesGilbertson

#Cink #Duval #among #final #additions #Shaw #Charity #Classic #field