'Smiling Assassin' from Australia turning heads with his sharp midfield play in first CPL campaign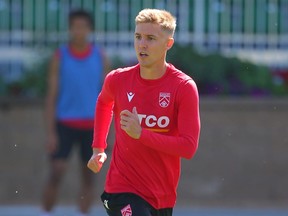 Article content
Jesse Daley's caught himself a new nickname since his arrival in Canada.
Article content
"The Smiling Assassin," said the Cavalry FC midfielder, with a sly grin stretching across his face.
Article content
"I like that," continued Daley. "I'll take that."
Good on him to wear the moniker bestowed on him by gaffer Tommy Wheeldon Jr. so proudly.
Because it suits his game.
Whether the affable Australian is talking off the pitch or bringing his game to life on it — as he's expected to do Friday night against host Valour FC in Winnipeg (6 p.m., OneSoccer, OneSoccer.ca) — Daley's got that killer smile working for him.
It's no doubt aggravating for rivals, especially when he's slicing them with his aggressive style for Cavalry.
Just like a Cavs star or two before him, you could say.
"Yeah … 100 per cent," said former Cavs captain turned assistant coach Nik Ledgerwood, when asked if Daley and his game — and that smirk — remind him of his own playing days. "I think one of the reasons we brought him in is he's got that tenacious little bite to him that you need.
Article content
"He's got legs for days, and he's now finally finding his feet within this league," continued Ledgerwood. "And it takes time as a foreigner coming into the league. You're gonna need a few months to really find yourself and figure out what the league is about in your legs. But now I think we're seeing the Jesse Daley that we signed in that he initiates a press, his back pressure is great and he covers a ton of ground for us — and that's exactly what you need in a box-to-box midfielder."
Indeed, the 25-year-old Daley is turning plenty of heads in just his first year in the Canadian Premier League.
"I know how big of a part of the club Ledge is and how good of a player he was, as well," Daley said. "So if there's any kinds of comparisons to him, I know it's a compliment.
Article content
"Being called 'aggressive,' I think that's probably a fair assessment," Daley said. "Yeah … I do want to play on the front foot and be aggressive. I don't like to take a backward step against anyone, and I think that's in Cavalry's DNA, as well. I think from the beginning, that's always been in the Cavalry DNA — to play on the front foot and to be as aggressive as possible and win football games."
Daley's rapid ascent been especially important with so much transition having happened at the midfield position for Cavalry in the last few years.
Ledgerwood's retirement left a gaping hole there.
Then came the departure of Jose Escalante — another guy who loved to push the buttons of opponents with his grin and his play — earlier this year.
Article content
And Shamit Shome's much-hyped arrival — alongside Daley — was quickly shut down by injury.
So Daley has become an important player in an important position. Only five other teammates have played more minutes than his 1,206 this season.
"Probably being a team player and contributing as much to the team as I can," said Daley, when asked to describe his own play. "My aggression, being on the front foot, playing forward, passing forward and running forward … I think those are probably the things that make sense to me. I think I need to add more goals and assists to my game and to take it to the next level. But I'm always working at that."
"He does all the unselfish stuff extremely well," agreed Ledgerwood. "I think the next layer of his game is, 'How can you add assists and goals being a box-to-box midfielder?' And I think if you want to be on an all-star team or ballot at the end of the year, you've got to put points on the board, as well. I think that's his next layer."
Article content
Somehow, you feel that's only a matter of time in that Daley seems to approach any and all challenges with the same way he goes at the opposition.
Full tilt, that is.
"I think growing up, when you are smaller in stature, you always get written off," said Daley, who's slight in size and stands just 5-foot-9. "And so I think I always had a point to prove and always kind of had my back against the wall and always things questioned about me. So I think that's potentially where my aggressive style comes from."
Plus the Brisbane native accepted the challenge of picking up from Down Under and making his way to Canada — and Calgary — for this new adventure.
Before this, the Aussie began his professional career with Seattle Sounders FC 2 — now known as Tacoma Defiance — in the USL Championship before finding comfort back home with Brisbane Roar of A-League Men, the highest division in Australia, where he made 54 appearances for the club.
Article content
"I think just moving away from family and friends and having that support network has been the biggest adjustment," added Daley. "But I'm making new friends and family here, as well. You know, I'm very close with a few boys on the team. Myer Bevan — I'm always over at his house and having dinner with him and his young family, so that's made it feel like home for me.
"I've loved like every minute so far."
FREE KICKS
Cavalry (8W-6D-4L) heads into Friday's affair in second spot of the CPL, sitting two points back of first-place Pacific FC (9-5-4). The Cavs have won six of eight games, including a 2-0 clean sheet over Valour back on Canada Day at Winnipeg's IG Field, the site of this contest … Meanwhile, Valour (3-8-7) has fallen on hard times, going winless in six straight games and sporting just one win and two draws in their last eight matches. With 17 points, they occupy the seventh spot on the table, just three points up on Vancouver FC (3-5-10) … Cavalry gets forward and leading goal-scorer Bevan back from his two-game suspension … Still sidelined for the Cavs is defender Roberto Alarcón (hamstring) and midfielder Nikolas Myroniuk (broken collarbone).
tsaelhof@postmedia.com

#Cavalry #smiles #Jesse #Daleys #aggressive #game #midfield