Calgary club opens final four Friday night against host Vancouver Bandits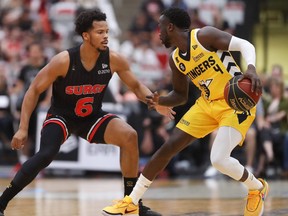 Article content
The holy hoop … er …grail is within reach for the first-year Calgary Surge.
Article content
That championship is just two wins away.
Article content
But the basketball bunch from this city is sticking to what got it to the Canadian Elite Basketball League's Championship Weekend …
"We are ready to play one more game and be ready for that," said Surge head coach Nelson Torreba, ahead of Friday's semifinal — the CEBL's Western Conference final — against the host Vancouver Bandits in Langley, B.C. (8:30 p.m., TSN4).
"Yeah … it's one game at a time," agreed Surge guard Sean Miller-Moore. "I'll say we need to do kind of the same — the same resumé, the same code, or whatever you call it — as we've done every other game. Just trust what we do, trust each other, stay disciplined, stay physical …"
Especially stay physical for this one.
Because even though the Bandits didn't quality as a playoff team based on their record — an 8-12 to finish tied for last in the conference — they bring a tough brand of basketball to the court.
Article content
And that makes them no easy pickings.
The Surge know it all too well, having lost 84-81 on June 3 and 82-77 on June 14 to the sub-.500 club.
"They've got a lot of grit, a lot of toughness," said Surge guard Stefan Smith. "They're well-coached. They're just a hard-playing team. And obviously, people who write them off or disrespect them for having the worst record in the league or whatever it is have to remember it's just a game with basketball. Any team can beat any team at any time. That's a reason to match their intensity and play hard."
Making it all the more challenging is that it comes on the Bandits' home court.
They are hosts of the final-four scenario that the sport of basketball is big on featuring, meaning they automatically qualified — despite their record — for the CEBL's Championship Weekend.
Article content
Both semis are at the Langley Events Centre, including the tip-off tilt — the Eastern Conference final pitting the Niagara River Lions (13-7) against the Scarborough Shooting Stars (11-9) — also Friday (6 p.m., TSN4).
The winners then meet in the title match Sunday night (5 p.m., TSN3) at the same venue in Langley, B.C.
"Unfinished business," said Miller-Moore, of the push to win both games this weekend and become champions for the first time in the five-year franchise history of the Surge/Guelph Nighthawks. "You know … we go to Vancouver and see Vancouver against their home crowd, and they're a tough team. They obviously beat us before a couple of times. They've got a good, physical team. They've got Nick Ward in the middle there.
Article content
"So we need to just stay physical and rebound and do what we do,"
Indeed, Ward is a handful, as the 6-foot-9 American forward is among the league leaders with 18.5 points averaged per game.
"Ward is a problem, and Giorgi (Bezhanishvili) is a problem," continued Torreba. "They are very, very tough.
"They've already beat us two out of three. They've had our number. So we know we have our hands full with them. They're tough, tough, tough. And it'll be at their arena, so it should be a fun environment, for sure."
But the Surge intend to be all-business at tip-off and, hopefully, through the finale on Sunday evening.
"We've just gotta lock in," Smith said. "I think we have the championship DNA already. I think it's just a matter of kind of just understanding what we're going there to do. Are you getting enough sleep? Are you taking care of a body? Doing all the small things is going to be the difference-maker."
Article content
"Yeah … I think that we have to keep doing what we've been doing," added Torreba. "We need to keep kind of sticking with what works for us, which is to get ready — preparation — and take pride in the preparation and getting ready for the game and then executing what it is we need to do to win the game. So if we keep doing that, then we'll keep having our best chance to win games."
FREE THROWS
Two Surge stars in guard Miller-Moore, of Toronto, and big forward Simi Shittu, of Burlington, Ont., were both named Wednesday night to the CEBL's all-Canadian team for their stellar play this season … Shittu, who left the Surge last week to join France top-tier winter-league team Limoges CSP, finished runner-up as CEBL Canadian Player of the Year. The 6-foot-10 star forward lost the honour to Ottawa Blackjacks guard Kadre Gray, of Toronto, during Wednesday's league awards show … River LIons forward Khalil Ahmad stole the awards show with two trophy takes — the defensive player of the year and the clutch player of the year … The night's other award winners were: U SPORTS Player of the Year Simon Hildebrandt (Winnipeg Sea Bears); Sixth Man of the Year Jelani Watson-Gayle (Sea Bears); Coach of the Year Mike Taylor (Sea Bears); and Most Valuable Player Teddy Allen (Sea Bears).
tsaelhof@postmedia.com

#Calgary #Surge #ready #steal #title #CEBL #Championship #Weekend