Local club closes out fantastic first campaign in Calgary as runners-up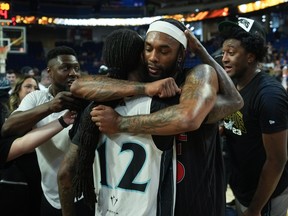 Article content
Everything went right for the Calgary Surge during their first season in the Canadian Elite Basketball League.
Article content
Except for the ending.
Article content
In Sunday's shot at a league championship, the Surge — strong all year in getting themselves to the title game — fell short to the Scarborough Shooting Stars to drop the 2023 finale 82-70 in Langley, B.C.
"We wanted to win," said Surge head coach Nelson Terroba, moments after the heartbreaking loss in front of 5,000 fans at the Langley Events Centre. "We're all disappointed. There's no way around it.
"We definitely wanted to win," continued Terroba. "We've been fortunate to come up with a lot of wins along this path. But we couldn't get it done."
For the Shooting Stars, it was redemption from a year ago, when they lost the CEBL final 90-88 to the Hamilton Honey Badgers.
They refused to finish runner-up again and did just about everything better than the Surge in this edition of the league's wrap-up match.
Article content
Fewer turnovers … 15-8.
A better shooting percentage … 42-38%.
A massive edge in fast-break points … 21-2.
And more buckets from the talents that mattered.
The Surge's two top stars — guards Stefan Smith and Sean-Miller Moore — were held to 14 and 10 points respectively after showcasing their scoring prowess all year, especially ahead of the championship game when the team went 6-0, which included two playoff triumphs to reach Sunday's finale.
"I think our guys fought," Terroba said. "And I wouldn't take another group at all in any other league in any other place than our group of guys. They're the ones we want to coach.
"It's a very impressive season for these young players," continued the bench boss. "They've played in some big games and in some tough environments and have done some very special things. So there's a lot to be proud of."
Article content
Early on Sunday, a push for the title seemed promising.
The Surge went up quickly on the strength of Jordy Tshimanga's effort and a gameplan to find the big man down low.
Tschimanga hit the Surge's first six points and 10 of the first 12 to propel them to strong leads of 15-5 and 19-10.
But then they went cold for a long spell.
The Stars went on a 16-0 span before Mason Bourcier finally laid one in off the glass to break what turned out to be the defining run of the game. Bourcier's bucket with 5:23 left in the half meant just the first points for the Western Conference winners in the second quarter, and they found themselves down 41-32 at halftime.
The Stars extended their lead to 14 in the third quarter.
But the scrappy Surge cut it down to six — at 48-42 — thanks to a shut-down defence that's been the league standard all season and a necessary 10-2 run.
Article content
Unfortunately, the surge didn't last, and through three quarters, the Stars put down 19 points off 11 Surge turnovers to post a 60-51 advantage.
"I'm sure turnovers played a part," Terroba said. "But let's give Scarborough credit — they did a great job defensively. They impacted the ball."
The Surge came out strong to start the final frame, knocking the deficit down to five points to make it a game.
However, the Eastern Conference champs turned it on again with a 12-0 run that put the dagger in the Calgary side to make it a 72-57 game heading into target-score time.
Although, the Surge put together a hardy effort to catch the Stars, it didn't happen for them.
Eventually, the Stars found the scoring late they needed to clinch the championship, with their top player, Cat Barber, driving the lane to lay in the game-winning bucket.
Article content
Barber earned a game-high 23 points, while teammate Isiaha Mike poured in 22 and had a team-high nine rebounds. Kyree Walker posted 17 points for the Stars, who combined with Barber and Mike to score 62 of the victors' 82 points.
"That's a good team," said Terroba of the Stars. "They're well-coached. They're very prepared."
For the Surge, it was Tshimanga with a team-best 15 points and a game-high 15 boards. Terry Henderson Jr. hit two key three-pointers in target-score time to finish on 11 points.
"Unfortunately we couldn't get it done," Tshimanga said. "But I'm really proud of the whole group. I think we did a good job."
For the Surge-Guelph Nighthawks franchise, it was a first title-tilt appearance.
So they're building, with promise to one-up their ending next year, especially behind the urging of what's been a welcoming fan base in Calgary.
Article content
"I just think it's a season of growth for our whole organization and basketball in our city, so there's a lot of takeaways from this," Terroba said. "The players and the staff and everybody can have pride in what they accomplished, and they can accept that there's more work to do for what they want in terms of their next goals."
"It was surreal to really feel the energy of the fans, especially for a first-year team," added Tshimanga. "I just want to say to the fans, 'I love ya — I appreciate you all. We didn't get it done, but we're still 'Surging and Purging.'"
tsaelhof@postmedia.com

#Calgary #Surge #fall #short #CEBL #title #loss #Scarborough #Stars