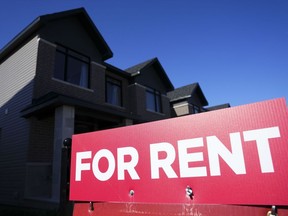 Article content
Not fixing the actual problem
Article content
In a recent letter the writer suggests that people who have a problem with rising rents should merely buy housing and rent it out at less than market price. This is silly.
Article content
A handful of individuals underselling their assets will not solve a market failure like the housing affordability crisis. It's just a trite excuse to ignore the problem. Let's stop pretending that individuals acting against market incentives can solve market failures.
SAMANTHA BUCHANAN
(So you're saying masking the symptoms won't fix the problem? You couldn't let elected officials know about this crazy concept?)
More bylaws won't ever fix things
 How much time was and will be wasted at city hall on bylaws? Foxtail barley all on city property, nothing done about it. Signage to close to roadways, nothing done about it. Cyclist riding wrong way down bike lanes speeding through school zones and red lights , nothing. Cars and trucks doing less than 80 km/h on Deerfoot, nothing. Remove construction signage and barriers when not working on the site. Nothing done about anything. Quit wasting my time and money. 
Article content
LEE RANDELL
(Enforcement could use some work, eh?)
Simple math
With unrelenting inflationary pressures negatively affecting all but the wealthiest of us, we are fortunate that the federal government still 'has our backs'. The ever-increasing Liberal carbon tax and rebate program allegedly provides an economic benefit to most of us. However, if Canadians got more back in rebates than they pay in inflated costs, why would they continually feel so much poorer? Could it be that while budgets don't balance themselves, they still require a steadily increasing contribution by citizens and a hope that taxpayers, just like our prime minister, don't think about monetary or fiscal policy? Fortunately for our dear leader, they mostly don't.
Article content
Al Willey
(Maybe someday he'll understand.)
Broken down
Trudeau is breaking Canadian spirits with his carbon tax increase. It's caused higher food and household costs while the 5% interest rate affects mortgage and credit card rates. Government's uncontrolled spending didn't increase foreign investment and job growth, but the opposite seems to have happened. All while politicians still take lavish trips even in our failing economy. Sad to say lower income families fear homelessness due to high priced homes, rentals, mortgages, food, and utilities. It's destroying family budgets.
PETER J. MIDDLEMORE Sr.
(The sad reality for many is the cost of living is just too high.)
#Calgary #Sun #Letters #Editor #August