The loss dropped the Stamps to 3-6 at the midway point of their 2023 season
Article content
If you were looking for where to assign blame for the way the Calgary Stampeders played on Saturday night, there are lots of options.
Article content
The way GM/head coach Dave Dickenson saw it, the running backs played to a decent standard and the linebackers and defensive line were generally up to standard, but otherwise it was a disappointing game against the B.C. Lions.
Article content
Nobody left Vancouver feeling good after the 37-9 defeat.
The question now is how they make sure it doesn't happen again.
And there are no easy fixes.
"We've gotta do something different and we've all talked it out," Dickenson said. "I think as coaches we have to change what we do a little bit. Probably impossible to do it on a short week but we have to at least try to put our players in the best positions to be successful.
"The message for me is just keep chopping wood and go for it. It's not going to change overnight. Maybe the work you're putting in today isn't going to pay off this week in the game but if you keep working I do think it will pay off."
Article content
The loss dropped the Stamps to 3-6 at the midway point of their 2023 season. With games against the Winnipeg Blue Bombers and Toronto Argonauts coming up next, it's quite possible that the record may get worse before it gets any better.
But ultimately, it wasn't the loss to the Lions that was so disappointing. The Lions are a good team and were rightfully positioned as the favourites heading into this weekend's matchup.
It was the way the Stamps lost that was so concerning.
They were down 17-0 by the end of the first quarter and never looked like they were going to fight their way back into the game. Quarterback Jake Maier rarely had much time in the pocket, but still only completed 17-of-31 passes for 131 yards. The Stamps didn't score a touchdown.
Article content
And right from the game's opening kickoff, there were too many penalties. In total, they were penalized 12 times for 140 yards.
"It was bad," Dickenson said when asked about his team's start. "We had penalties right away. A lot of times penalties for me are you're not quite as focused as you need to be because a lot of times you're behind the play so you reach out and grab. Was it an egregious hold on the first play of the game? No, but it was so then now you're first-and-20.
"We were offside on the very first kickoff, That kind of shows you that we weren't mentally focused and ready to play and you could see that by the performance."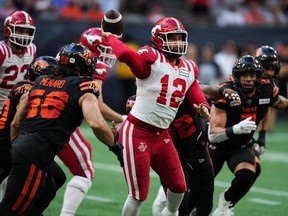 So what now?
The Stamps don't need to be told they're not playing well enough. They're well aware.
Article content
The coaching staff knows that changes are necessary. With no bye-week until mid-September, any changes are going to have to happen on the fly, at least for now.
There's no knight in shining armour coming off the six-game injured list. With NFL training camps still underway and lots of American players more inclined to take their shots in one of the two spring leagues that have started south of the border, it's harder than ever to recruit talent to come north.
So the Stamps will keep working. It's all they do.
"We're going to try to stay together, I'm confident in this team, I am," Dickenson said. "I think we can make it work. We've just got to be playing almost close to perfection. We know we're going to make mistakes but we can't have critical, critical mental errors and we have to play with a little more confidence. Those are just things you've got to do.
"It's not easy, if we had a magical formula we'd use it but we don't."
QUICK EXPLANATION
There were questions about why Tommy Stevens didn't see the field late in the game on Saturday, especially on a crucial third-and-two play.
As it turns out, the Stampeders quarterback was dealing with back spasms and with the team already trailing by a big margin, the coaching staff just didn't think it was worth risking him in that situation.
daustin@postmedia.com
www.twitter.com/DannyAustin_9

#Calgary #Stampeders #picking #pieces #tough #loss #B.C #Lions