A few months ago, Ashton Casey, AKA the US rapper, singer and purveyor of industrial-strength agit-pop Ashnikko, escaped from the real world. The artist, who uses they/them pronouns, had been working hard to finish their brain-frying debut album Weedkiller – a climate crisis-evoking conceptual opus about a tribe of fairies under attack from the titular killing machine – and there were tour rehearsals to start and world-building videos to shoot. So Casey did what any of us would do and hopped over to west Wales to stare at trees. "I love Wales so much; it's my favourite place on Earth," Casey says from LA. "It's a magic fairy paradise." As befits Ashnikko's desire to push the envelope, be it musically or vis-a-vis enjoying the natural world, there was an additional element of escapism. "Taking magic mushrooms is a spiritual practice as well as something that massively aids my mental health journey," Casey explains of their chosen holiday must-have. "I feel so much more connected to the Earth, and my creativity flows a bit more easily when I feel that way."
That creativity bubbles like lava through Ashnikko's discography: the pummelling recent single You Make Me Sick!; 2019's braggadocious breakthrough Stupid, complete with its screamed hook "Wet! Wet! Wet! Wet!"; or 2020's haunted trap banger Daisy, a rape revenge fantasy that landed in the UK Top 30. Today, however, Casey seems miles away from the blue-haired, Y2K-obsessed cyberpunk-meets-goblin anime comic-book hero they present as Ashnikko, a character creation they see as becoming "closer and closer to who I am as the years go on". Having just arrived in LA before heading to San Diego for Comic-Con, where they will be signing copies of their own Weedkiller-affiliated DC comic, they seem distant at first, not helped by the Zoom camera being turned off. "I've just woken up," Casey sighs.
The Weedkiller era marks a turning point in the 27-year-old's mindset: gone are the days of people-pleasing and living up to expectations. Around the time of 2021's mixtape Demidevil, which featured guests Princess Nokia and Grimes, as well as the sex-positive anthem Clitoris! The Musical, Casey found that sudden success meant music had become a chore. "I listen to some of those songs and I cringe pretty hard," they say. "I was writing music people wanted to hear and now I write music that I want to hear. I wanted to take the reins a little bit and be like, 'No, I want to make my fairy music.' It's got to resonate in a deep part of my heart."
Deeply online, having discovered Tumblr as an isolated teenager and got their break via TikTok, Casey has also applied this new mindset to interacting with social media. Shortly after the release of Demidevil there was speculation around their sexuality and gender identity, resulting in them tweeting: "To clarify i am pansexual and genderfluid i just didn't feel ready to tell the internet yet." It's a side to fame they hadn't accounted for when they started pursuing music as a 15-year-old. "It felt very invasive and still feels invasive, so I keep a lot of things private," they say. "I don't owe anyone an explanation about the inner workings of my mind." The internet, they say, quickly calcified into a loop of negative feedback once Stupid took off, quickly becoming the second most popular song at the time on TikTok with 1.3m video uses, including some by fan Miley Cyrus.
"The internet is a cruel place and it's especially cruel to women and femmes," Casey says. "It was not good for me to be relatively unknown and then lose that anonymity in the span of a month. It doesn't come naturally to me to deal with that amount of attention, especially negative attention. We have not evolved since gladiator arenas of watching people being torn apart by lions."
This misogyny is tackled on the ferocious new single Cheerleader, a chant-like anthem complete with a video that fuses the folk-horror nightmare Midsommar and the teen comedy Bring It On. Like the majority of Weedkiller, Cheerleader tackles a weighty topic via the prism of fantastical flights of fancy and dark humour. This time that means exposing the "pressure to look young and fuckable" while tackling the male gaze, otherwise known as "this grotesque, gargantuan beast lurking in my peripheral vision the whole time, just staring at me, watching me, gazing at me".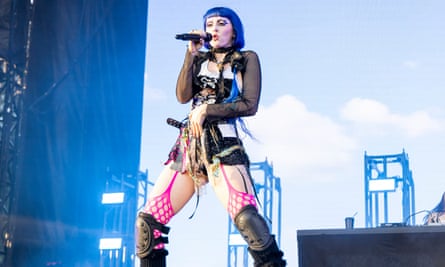 Elsewhere, the haunting Possession of a Weapon explores ideas around bodily autonomy and Roe v Wade. "Just feeling like my skin and my organs are no longer mine," Casey says slowly. "Kind of looking back at the predators who have laid their hands on me and feeling uncomfortable in my skin. But then there's an element of it being a bit tongue in cheek, like: 'If you want my body so badly I'll give you blood and guts. I'll rip out my organs and throw them at you.'" They stop for a second of self-reflection. "I'm the type of person who laughs in a therapy session, who talks about something traumatising and has a little giggle. There's probably a technical term for that avoidance."
This fusing of stark reality and fantasy started for Casey at an early age, growing up in Greensboro, North Carolina. They'd often put on plays for the neighbourhood ("Someone would always die, or get married"), while later they were suspended from school for writing an excrement-filled story involving their teacher. "Poo was just one element," they protest. "I was a very silly child." At 14 the family moved to Estonia, and then Latvia, due to their father's studies. Isolated and lonely, Casey escaped into fantasy, gorging on Neil Gaiman books and searching out likeminded people on Tumblr. Their musical tastes focused on pioneering women in male-dominated genres: people such as MIA, Björk, Missy Elliott, Gwen Stefani, Hayley Williams of Paramore and Kelis.
At 18, Casey moved to London alone, keen to improve on the DIY songs made in their bedroom. "I was like: 'I'm going to make it and it's going to take me a year,'" they laugh. "It did not take a year; it took much longer than that." Eventually they found their "little world of musicians" and signed to Parlophone in 2018. Things then moved so quickly that Ashnikko didn't even have a TikTok account when Stupid went viral, making them an early example of the platform's ability to break an act. "I find it really funny when people call me a TikTok artist; I've been making music for a decade. It's just a vehicle to bring music to people but it's not a conductor of the symphony."
There are other parts of the music industry game Casey isn't keen on playing along with, in particular the assumed role often put on queer performers. "It feels so pretentious when artists are like: 'I'm a role model.' I hate it. Everyone's a flawed human and everyone is trying to grow. I'm trying to sculpt myself into a decent human being and that feels like an ongoing process." They would, however, quite like cultural gatekeepers to step up to the mark a bit more when it comes to queer representation. "I saw the new Pixar film the other day, Elemental. It was cute but the whole time I was laughing. Disney will literally make fire and water fuck on screen before they let queer people have meaningful plot lines."
In their own unique way, via Weedkiller's fantastical treaties on the climate crisis, bodily autonomy and the pleasures of queer sex, Casey is making a space for their burgeoning fanbase to see themselves and connect with each other. It's a connection Casey doesn't want to see from a pop star-like distance, however, choosing instead to root themselves in the earth like their beloved Welsh trees. "Whenever I go on stage I always have to fight back tears because I'm so happy everyone is there making friends," they say, now fully awake. "So many of my fans have met each other because of their mutual love of my music, and I did the same through other artists. It's so cool how art creates community."
Weedkiller is released on 25 August.
#Ashnikko #sort #person #laughs #therapy #session #Rap